Sports
At Holy Trinity Pewley Down we are very proud of all the sports opportunities we have on offer. Nick Walker leads PE and sport across both sites, with Laura Sutton and Lucy Dolling working at the juniors and infants respectively. Please see the Policies page for our Sports Policy.
For information about how we teach PE as part of our weekly curriculum, see the Subject page which can be found here.
How we spend the Sports Premium
Sports Premium is funding, that the school receives from the government. The money should be used to support long lasting change in the teaching of Physical Education. There are 5 areas which have been highlighted as being key to these sustainable changes.
The engagement of all pupils in regular physical activity – kick-starting healthy active lifestyles
The profile of PE and sport being raised across the school as a tool for whole school improvement
Increased confidence, knowledge and skills of all staff in teaching PE and sport
Broader experience of a range of sports and activities offered to all pupils
Increased participation in competitive sport
At Holy Trinity Pewley Down School, we have put together a plan of how we think we can best spend the money to support the needs of our school in making long term positive change. See below for how the Sport Premium was spent.
Platinum Award and 3-Star Mark Award for 2021-22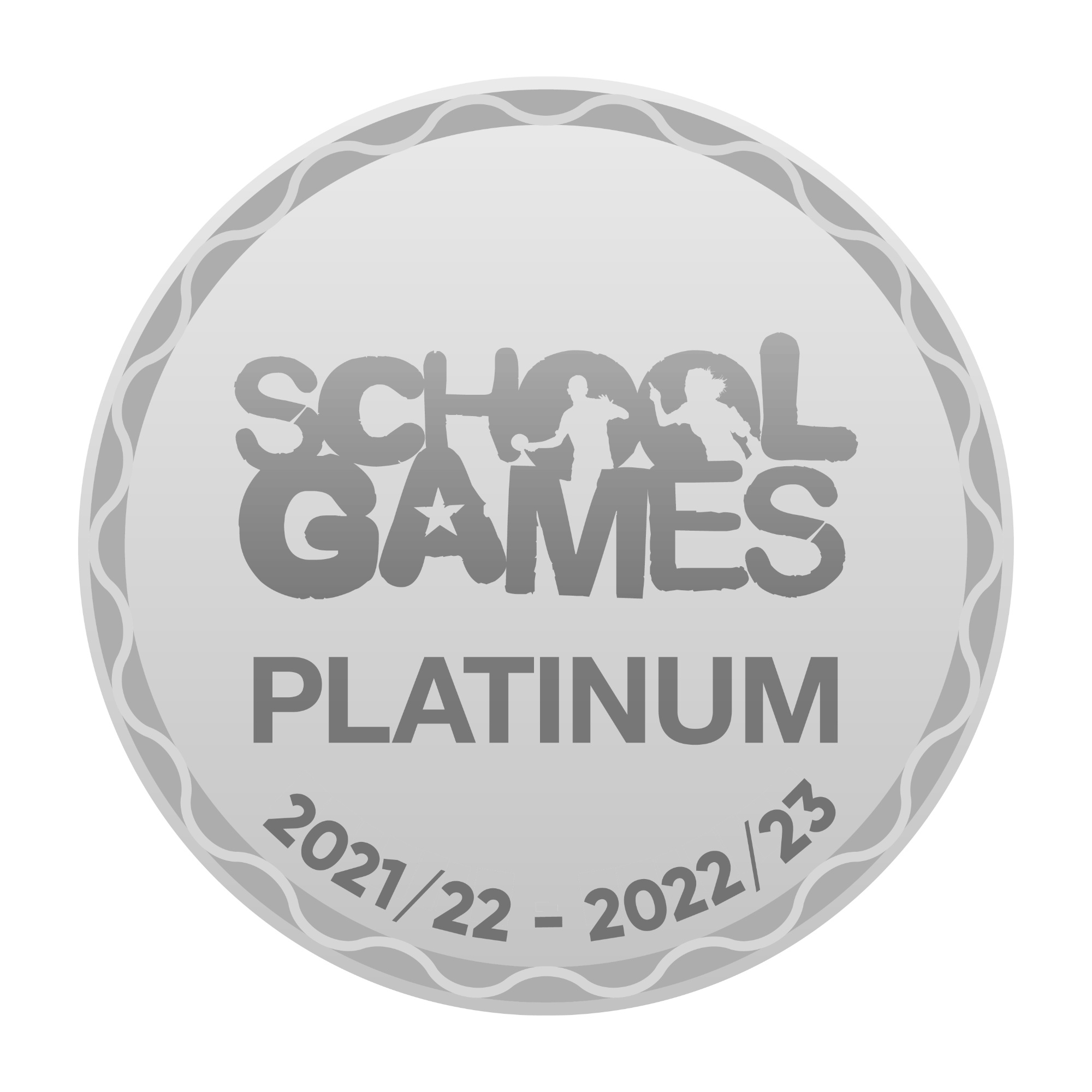 We have been awarded a Platinum award for our school games provision by Active Surrey. The purpose of School Games Mark is to reward and recognise a school's engagement in keeping young people active.
The platinum award is available to those schools that have achieved the gold award in the last four years. Not only did we achieve gold this year but we then applied for the platinum.award. This is what Active Surrey had to say about us:
Please click here to read how we achieved Platinum for 2021-2022.
Congratulations Holy Trinity Pewley Down on achieving the Platinum School Games Mark Award for the 2021/2022 year. Only a small amount of schools across the country receive the Platinum award and it is very well deserved for all the effort that has been put in, by staff and pupils, to ensure every child has access to opportunities in physical activity and sport.

HTPD have achieved the award for ensuring there are physical activity opportunities at competitions in the local area, access to after school clubs and a comprehensive PE curriculum, but more importantly by fostering active habits throughout the school day. Ensuring a whole school approach makes HTPD one of the most active schools not just in the Guildford area but also in the county.

We are very happy to see the Platinum School Games Mark awarded to HTPD and it is thoroughly deserved.
We currently offer the following sports as part of our PE curriculum, as after-school clubs, and interschool fixtures. The sports we offer vary over the summer and winter months:
Football
Netball
Hockey
Dodgeball
Cricket
Tennis
Swimming
Rounders
Cross country
Judo
Dance/ Ballet
Basketball
Badminton
Clubs Policy
We aim to make Holy Trinity extracurricular clubs as inclusive as possible. As a result, they are generally free and provided on site by Holy Trinity Staff. We welcome everyone and no specific equipment is required, although PE clothing is important. There are a few clubs which we are unable to provide, so we invite experts in to coach. These clubs do charge a small amount. Please see the Clubs Page for further details. Many of our children represent the school in inter-school, county and national competitions. All of our children represent the school in intra-school house competitions.
Sports Fixtures
We have a comprehensive calendar of sports competitions across a wide range of different sports. This includes many inclusive and friendly matches at a range of levels and involves a wide range of children from across all year groups.
We attend events at regular venues, please click on the venue for a map.
External Sports Clubs
We have links to lots of local sports clubs, with many current and ex-pupils enjoying success and years of enjoyment taking part in a sport they love. Listed below are some local clubs where primary aged children are welcomed. Please email Laura Sutton if you would like further advice about which club would be suitable for your child.
Netball
Football
Swimming
Athletics
Rugby
Kayaking
Cricket
Tennis
Learning to Swim
Year 2, Year 3 and Year 4 go to swimming lessons at Spectrum during PE time but learning to swim should not stop for all children when school swimming ends. It is so important that every child can swim so they are able to fully enjoy swimming and be safe in the water for their whole lives. Below are some local swimming lesson providers:
Pewley Down
At Pewley Down we focus on the foundation of good physical education with the emphasis on movement, co-ordination and balance across a wide range of sports. The children start to play and work with other children in pairs and small groups exploring a range of basic skills, actions and ideas using a varied range of physical activity.
Games
Athletics
Dance
Swimming
We also provide many taster sessions in a range of sports to whet the appetite of our children and introduce them to the opportunities available.
We were delighted to receive the 3-star mark for our sports provision at Pewley in 2021-22.
School Clubs
We provide a range of clubs which may vary throughout the year:
Football
Multi-sports
Dance/ballet
Tennis