Our Church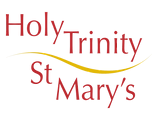 Our Ethos
Rev Robert Cotton, Rector of Holy Trinity and St Mary's Churches writes:

For more than 200 years, both Holy Trinity Church and Holy Trinity School have been at the heart of Guildford life. The church, being on the High Street, keeps its doors open as much as possible, welcoming people into a place of beauty, stillness and glory. The school was once situated very close by – but now, both Pewley Down and Holy Trinity are right next to the wonderful Surrey countryside. This gives children the chance to delight in, and learn to respect their environment.
For over 20 years, I have taken assemblies regularly, seeing the children in action, praying with them, and rejoicing in them singing so enthusiastically. Above all, I enjoy telling them stories – from the Bible, or stories that Jesus told, or stories from our own day-to-day experience. Sometimes I love seeing them recognise the story I am telling halfway through – it feels as though they could take over and complete the stories themselves! By hearing stories of faith and hope, kindness and generosity, we learn to be people of faith and kindness ourselves. Then, at the end of each term, the school visits the church, bringing some of their work and music as an offering to God and a celebration of their talent.
The school and church are committed to the same ethos and pattern of living: seeking wisdom, respecting all, delighting in truth, nurturing character and hope. The church gives to the school with an annual financial donation, as well as the support of time, energy and enthusiasm of people who are parents, helpers and governors. The church benefits from links with the school by having children from HTPD in our Junior Church, choirs and congregation. I take enormous pleasure in seeing young adults, walking around Guildford, knowing that they have much to offer our society, as they were nurtured by their time at both Holy Trinity school and church.
The Parish of Holy Trinity and St Mary's Guildford is a thriving community in the centre of Guildford with Guildford Methodist Church at St Mary's. We are a member of the cluster group with St Nicolas' and St Saviour's Guildford.
The churches of Holy Trinity and St Mary's have a long tradition of witness to Christ's presence in the community of Guildford. For more than ten centuries they have preached the Good News of Christ to the town, welcoming those in need or in search of spiritual help. Holy Trinity and St Mary's provide the focus for friendship, personal growth, service and nourishment. The central place the two churches hold in our town is underlined by their active involvement with the broader community in worship, cultural activity and charitable work. We are very fortunate to be part of this remarkable community of faith.