No. 299 - 12 May
Dear Parents and Carers,
Another short four-day week has whizzed by – I hope you enjoyed the bank holiday as well as the coronation celebrations. Despite only being four days, it's been a week full of opportunities for the children! I love to see the school fully embracing life.
Year 1 had a wonderful day in the spring sunshine at Wisley Gardens, learning all about plants, where our food comes from, and gaining a deeper respect for the natural world.
Meanwhile, Year 5 have been enjoying an exciting adventure down in Dorset. They've been staying at a beautiful residential centre, Brenscombe Farm – not only having lots of time with their friends, taking part in exciting outdoor challenges, but also learning about the local coastal geography of Studland Bay, and the importance of Corfe Castle, comparing it to Guildford's castle and contrasting rural settlements with life in a busy commuter town. We're all excited to see them back later this afternoon, and can't wait to hear about all their experiences; it's always a trip that enables children to grow in confidence, overcoming nerves, facing challenges and learning independence. I'm sure they'll sleep well tonight!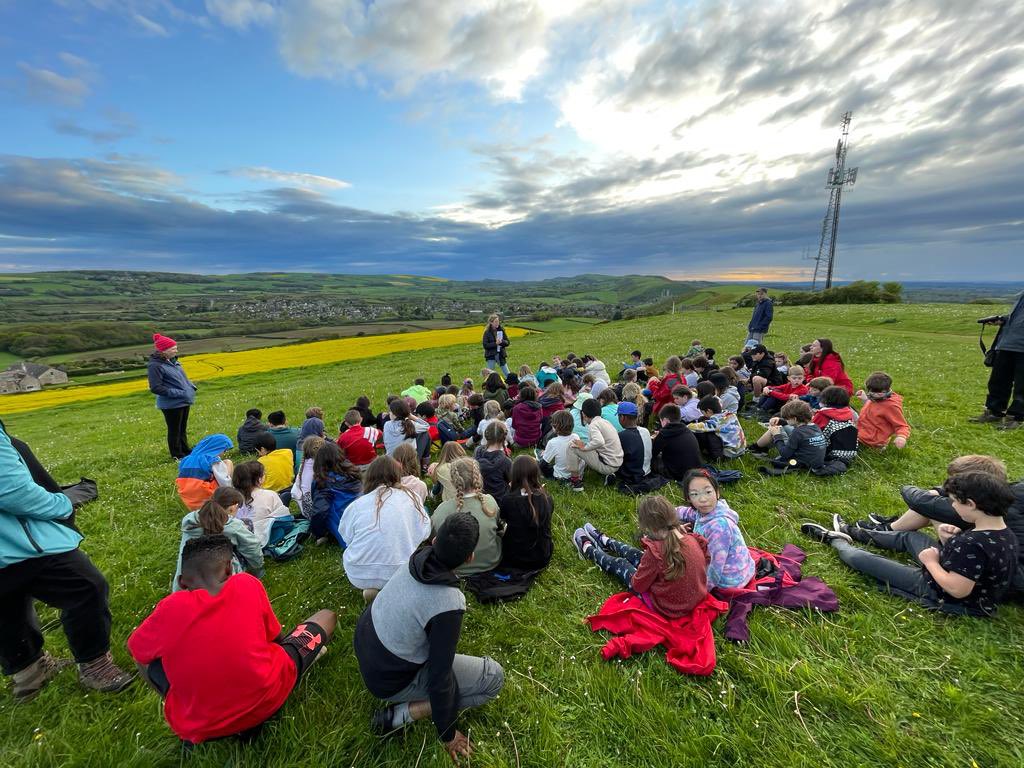 Then, back in school, we've been so proud of our Year 6 students as they tackled their SATS with confidence and quiet assurance; these statutory assessment tests are taken by children in Year 6 all over the country. They have to complete questions on six different papers, being tested on their understanding of grammar and punctuation, their reading comprehension, arithmetic and reasoning skills. I've been delighted by their determination to do their very best, and also their calm and positive attitude. They seemed to particularly enjoy the brain-boosting bananas and blueberries each morning; perhaps a fruity breakfast should be part of every day! It gave me a real sense of pride to see them expertly tackle the arithmetic paper, with its 36 questions in thirty minutes. It's quite a feat to work that quickly and efficiently, without panicking or getting stuck on one question, not leaving time for others. Well done to them all! I hope that the trip on Monday to Horseshoe Lake for a day of fun is an enjoyable way to celebrate this week's achievements!
Also next week, the children in Year 3 take part in another HTPD-adventure as they visit Henley Fort to learn all about the home guard during the Second World War. It's through experiences like these, and the residentials and all the wider opportunities, that the children arrive at the end of their time with us really having "learnt to live". I'm not sure that can be tested in a week of national exams, but I'm convinced that the positive attitude that our children demonstrate (in contrast to some of the rather alarming reports in the national press) is in part due to this holistic approach to education. Thank you for being part of our school community, where we see "a zest for learning and a love of life" as so vital!
With love,
Clare
WHOLE SCHOOL
Catering Assistant vacancy, Pewley Down
Harrison Catering Services is one of the UK's leading independent catering companies, serving high-quality, freshly-cooked food to thousands of people in schools and workplaces every day. We are looking for a Catering Assistant to join the Pewley Down catering team. The position will assist with the preparation of our fresh food offer and with serving Students/Pupils, as well as set up and clear down.
The ideal candidate will be able to work as part of a team. Full training will be provided along with uniform. You will be rewarded with a competitive salary for working 20 hours per week, term time only. If you are interested and would like to apply for this role, please email your CV and covering letter to paul.thorne@harrisoncatering.co.uk
Infant
Class Photo orders
Please return your class photo orders by next Monday 15 May. You can either order online or return your completed form to the school office.
Ballet Club Show
This term's ballet show will be on Thursday 6 July at 3.30pm.
Menu: week 1 beginning 15 May.
---
FOPS News
Hi everyone,
We hope you've had a good week.
Coronation Artwork Competition
A HUGE well done to all the children who took part in the Coronation Artwork competition. All the entries were wonderful and we've heard it was hard to pick the winners! The 9 winning entries can now be seen in the window of Knight Frank on the High Street and will be there until Monday.
Summer Fair
We are excitedly organising the summer fair, which will be held at Pewley on 17th June, 3pm – 6pm.
Thank you to everyone who filled in the survey, your comments have helped us to make sure we organise a fair which we hope everyone will enjoy. The summer fair is called 'Pewley-on-Sea' and as the name suggests, the theme will be the Great British Seaside. There will be a bouncy castle, lots of games, crafts, hotdogs, ice creams and a fully stocked bar. We have a very special treat for children at the fair, a magic show! Tickets will be on sale in June and we'll update you with all the details soon.
Joining the FOPS committee
We are looking for new members to join the FOPS committee from September, as some of the team will no longer have children at Pewley. We have personally really enjoyed being part of the committee and would be happy to have a chat with anyone who is keen to get involved. Please get in touch with your class rep if you'd like find out more about the ways you could be involved or email Sally at sallyjc78@gmail.com.
Have a lovely weekend!
Eleanor and Sally x
Dates for the diary:
Junior
Dates for the Diary
Monday 15 May – Y6 to Horseshoe Lake
Monday 15 May – Wednesday 17 May – Y3 Henley Fort visit ( 3S on Monday 15, 3AW on Tuesday 16, 3A on Wednesday 17)
Friday 19 May – Y5 and Y6 Film Night – please return completed form with payment to the office by Wednesday 17 May.
Cancelled Clubs
Tuesday 16 May – Y3 + Y4 Tennis Club
Tuesday 16 May – Y5 Frisbee Club
Tuesday 16 May – Y6 Cooking Club
Wednesday 17 May - Almost Science will be cancelled. An extra session will be added on after half term
Friday 26 May – Y6 Netball Club
Preston Montford
The Year 6 Team is busy finalising events and plans for the exciting 2023 Preston Montford Residential from 19-23 June 2023.
With this in mind please log into www.parentpay.com and settle any amounts if owing. Thank you if you have already settled.
Tempest Class Photographs
Final reminder to return order forms by Monday. The orders will be collected Monday evening.
Lunch
Week 1 Menu for week beginning 15 May.
Sports Fixtures and Cancelled Clubs Update
We have the annual District Sports Athletics competition in June and children from Y3, Y4, Y5 & Y6 are invited to try out for selection for the team. Please ensure your child has their PE kit with them school, including trainers. They will not be allowed to take part without them. Pick up is at 4.15pm in the playground.
Tuesday 16 May - Y5 & Y6 District Sports Try-outs - pick up in the playground at 4.15pm
Saturday 20 May - Y4, Y5 & Y6 Wey Valley Swimming Gala -The team has been sent out on Parent Mail.
Monday 22 May - First Y5&6 - Catch Up swimming lesson at Spectrum.
Other
Football boots for Uganda - Sam Andrews and Kickstart Coaching are helping a charity that sponsors football teams in Uganda. They are in need of any size, used or outgrown, studded football boots. If you wish to donate a pair of football boots, please bag each pair and place them in the box that will be left in the school office. The football boots will be collected Friday 19th May. Your efforts would be most welcome.
May Half Term Workshops – G Live (see flyer below).
Guildfordians RFC are hosting a FREE girls rugby camp in May half term. It is specifically aimed at girls who have either never tried rugby before, or have had limited exposure and would like to come along and try it out. Please see the flyer below.
Guildford Saints Girls Football Club – please see the flyer below for details of the girls trial.
Yvonne Arnaud Theatre are offering an exciting range of workshops for ages 5-11yrs during the half term break. They also have free bursary places available for the workshops for young carers and families with children who are eligible for pupil premium or who are struggling to access creative activity for their children due to financial circumstances. https://www.yvonne-arnaud.co.uk/whats-on/by-venue/workshop. Please see the flyer below.
Wintershall - The Life of Christ will be performed from 27 June to 1 July at Wintershall. Please see the flyer below.
"The greatest story of all time is movingly recreated with authentic detail, outstanding quality sound and music. The Life of Christ is a passion play not to be missed. It is both educational and entertaining, amusing and serious.Watch as hundreds of actors bring the story of Jesus to life in an open-air epic production set in stunning Surrey countryside."
Young and old from all walks of life will be mesmerised as the story unfolds across three captivating acts from 10am to 3.30pm.