No. 283 - 16 December
Dear Parents and Carers,
I hope that your child has enjoyed the final week of term, with its Christmas parties, HT quiz and Pewley pantomime, and joyful carol services. The singing at both Holy Trinity church and around the Christmas tree at Pewley was amazing; the children joined in with real enthusiasm and joy, and the prayers for peace were so moving and hopeful. It was wonderful to be able to share both these occasions with so many of you too. Thank you for being part of such a great community!
You'll be so pleased to hear that our final contribution to the Guildford Ukraine hub was £1000 – this will make such a difference to so many families. Thank you so much for your amazing generosity! The junior school council were excited to deliver such a large donation this morning, along with 50 Christmas chocolate selection packs for the Ukrainian children across the town. Giving to such a great cause has been a really positive act of kindness – the children have shown empathy and compassion, and been determined to see "heaven in the moment" for themselves. We've all been able to find light in the darkness and been grateful for our school community; I hope that for you too, this Christmastime, you're able to find comfort and joy.
Finally, I'd like to pass on thanks from the staff team for so many messages of encouragement, for your Christmas greetings and for all your support. We appreciate your kindness, your gifts to us and your partnership. We're looking forward to a relaxing holiday – and are excited to look ahead to 2023! We'll see you all on Wednesday 4th January. Until then, have a peaceful, hopeful and happy Christmas!
With love,
Clare
Infant
Menu: Week 1 beginning 4 Jan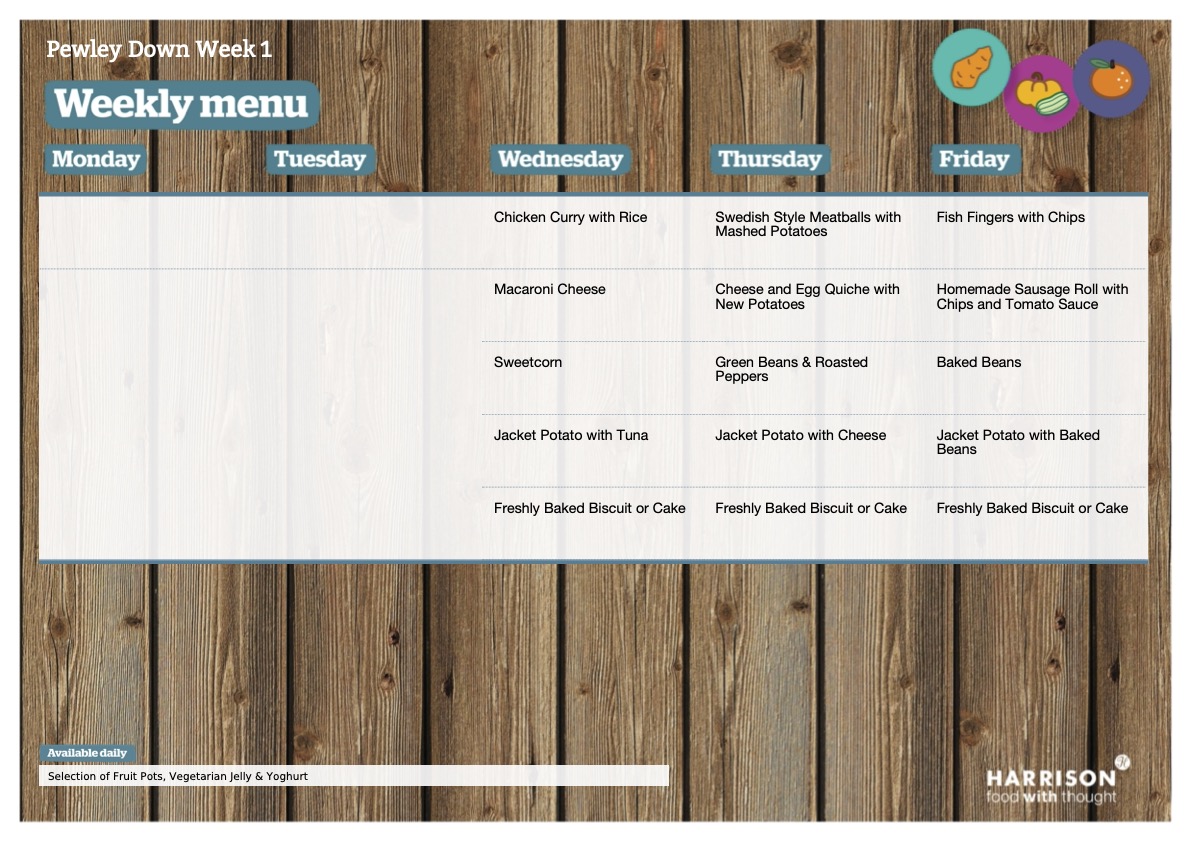 ---
FOPS NEWS
Hi everyone
We'd like to thank you all for helping us to raise money for the school this term. Through the bakes sales, tea towels, disco and Christmas fair, we've raised over £5,000!
We have lots of fun events to look forward to in 2023, including the quiz and curry night on Friday 3rd February, plus a bedtime story evening for the children at the school before Easter, a bake and stroll and lots more.
We hope you all have a lovely Christmas and look forward to seeing you in January.
Eleanor and Sally
Dates for your diaries:
Quiz and Curry Night Friday 3rd February
Junior
Dates for the Diary
Clubs
Do have a look with your child about the clubs on offer next term. Perhaps encourage them to try something new or different. School teacher-led clubs will start in the second week of term, the week commencing 9 January. For the clubs with a limited number of places, registration forms will go live at 6pm on Thursday 5 January. Please refer to the ParentMail sent on 9 December for detailed information about the Spring Term clubs.
Ballet Club (Friday) Should you wish to sign up your child for Ballet club, please see the flyer.
Lunch: Week 1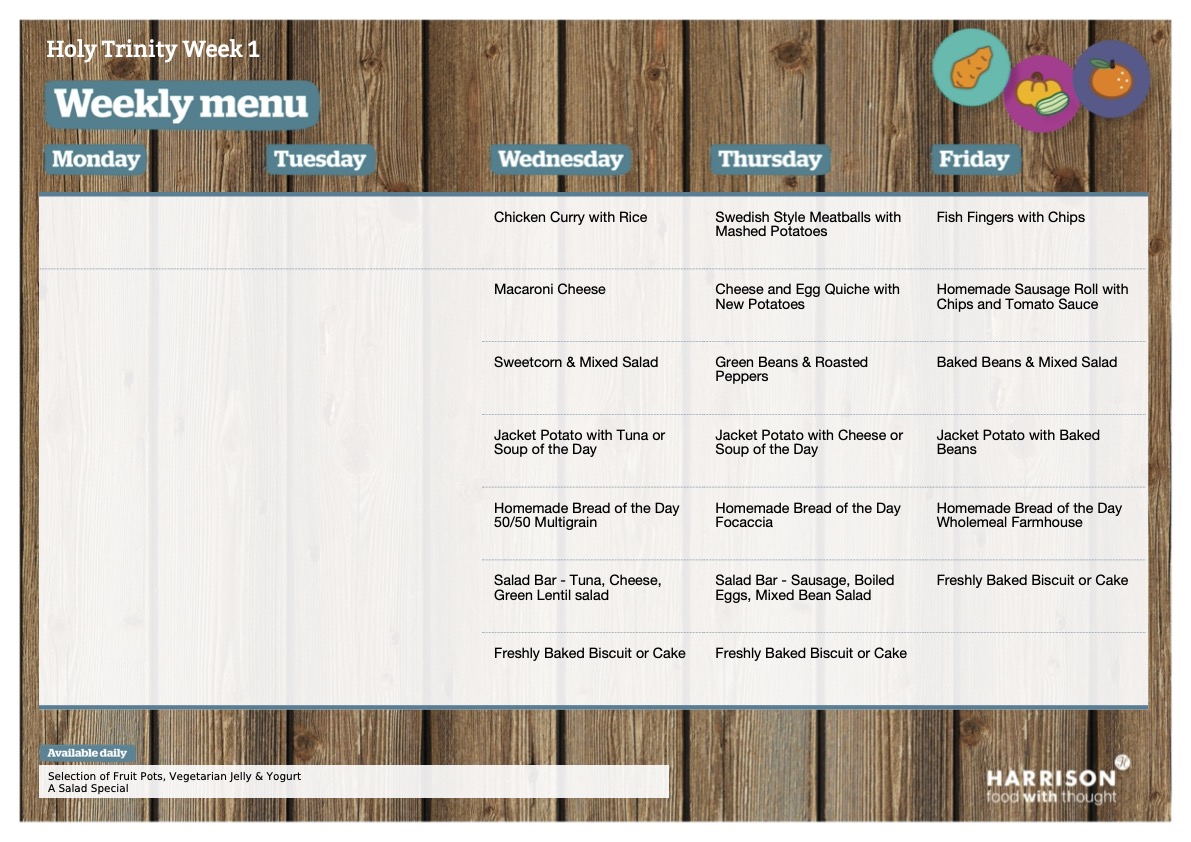 Formal Consultation on Proposed Admission Arrangements for 2024/2025. St Peter's Catholic School, Horseshoe Lane East, Guildford, Surrey, GU1 2TN
St Peter's Catholic School is now formally consulting on its proposed admission arrangements for 2024/25. Please find attached the Admission Policies, Supplementary Information Forms and Choices Forms.
The consultation period will run for six weeks from Wednesday 14th December 2022 to Wednesday 25th January 2023. You are invited to submit any comments by email to Mrs Annie Buchanan-Robinson, PA to Headteacher: abuchananrobinson@st-peters.surrey.sch.uk by the closing date of Wednesday 25th January 2023. Comments will be considered and determined admission arrangements will be published by the deadline date.
Details of the consultation can also be found on the school's website: www.st-petersschool.co.uk.
I would be very grateful if you could circulate this to all parents, staff and any other interested parties.
Kind regards, Mrs A Buchanan-Robinson, PA to Mr T Miller, Headteacher
Other
Guildford Borough Council has organised a free Festive Nutcracker Trail around Guildford Town Centre from Wednesday 7 December to Thursday 5 January. It's free to enter – simply find the 10 nutcracker soldiers in the windows of participating shops and businesses, note the letter displayed on each, and work out the festive word. Then pop your completed entry form in the special post box at Tunsgate Quarter to be in with a chance of winning some fantastic prizes. See flyer below.