No. 282 - 9 December
Dear Parents and Carers,
I'm still smiling and humming along to the songs from our two shows! What an absolutely brilliant week! All the performers, as well as the staff and children who worked so hard behind the scenes, deserve a huge "Well done!" Both the "Wizard of Oz" and "The Big Little Nativity" were just excellent. I think many of us really enjoyed seeing performers on stage again, as well as just being part of a live audience - it's been such a long time since live performances have been possible and we're noticing all the things that we can enjoy again this year. Every single dance, song and scene brought so much joy; thank you to everybody who took part! It's been an easy week to "see heaven in the moment".
Today we've lit the third candle on our Advent Crown – it traditionally signifies joy, and we've had plenty of joy in school this week so it was easy to be grateful. As well as the Christmas shows, we also enjoyed our Christmas dinners. Thanks to our caterers for a delicious spread – Lisa, Oya and the team of cooks produced Christmas dinner with all the trimmings, together with Christmas cookies, or chocolatey cake. There were empty plates all round; and we made a point of being thankful for good food!
Thank you so much for your generosity and kind donations to our Christmas charity this week. We'll be able to take a generous gift to the Guildford Ukraine Hub before the holidays begin. If you didn't have cash on hand at the performances, please feel free to make a donation via Parentpay. We'll keep the fund open over the weekend. It's so good to be part of such a wonderful community that's able to look after others!
Next week, the Christmas celebrations continue. We're looking forward to Carols around the Christmas Tree at Pewley on Wednesday 14th at 10am, and then the juniors will be walking to Holy Trinity Church for our end of term carol service on Thursday 15th at 9.15 (the service starts at 9.45). You're welcome to come along to either event – please email your child's teacher if you can help out with walking the juniors to and from the church.
Then we'll break up for the Christmas holidays on Friday 16th, finishing at 1.30pm at Pewley and 1.45pm at Holy Trinity. But I'll write again next week with our final Christmas greetings! Have a restful weekend!
With love,
Clare
Friday 16 December – Early Finish 1:30 at PD, 1:45 at HT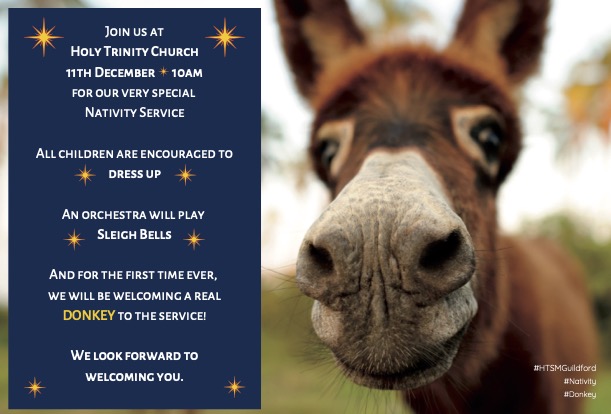 Infant
Carols Round the Tree, Wednesday 14 December, 10.00am
Parents and carers are warmly invited to join us for Carols Round the Tree in the hall next Wednesday.
The Pied Piper Theatre Company, Thursday 15 December
On Thursday afternoon the children will be watching a performance of 'Burglar Bill' kindly funded bv FOPS.
Teacher-led clubs
The teacher-led clubs will continue next week.
Menu: Week 2 beginning 12 December
---
FOPS NEWS
Hi everyone,
Firstly thank you to everyone who supported the Christmas Fair last Saturday. It was a really festive event filled with lots of smiling, happy faces! We were so grateful to everyone who came along, to those who donated toys and clothes, to those who baked and bought and especially to all the wonderful volunteers who helped us set up, run stalls and clear up afterwards – these fundraising events wouldn't be possible without all of your generosity. We were thrilled to have raised around £3000 which will go towards school renovations and resources.
Here are some deadlines to be aware of in the last week of school:
Christmas Collection
9th December by 7pm – deadline to contribute to the Christmas collection for the wonderful staff at Pewley. We are doing a whole school collection which will then get split by each staff member and the hours they do! If you would like to contribute please send your donations to:
Account name: Caroline Maxwell
Sort code 04-00-04
Account number 68327827
Gifts will be bought on Saturday 10th and class reps will distribute on the last few days of term.
Christmas Cards
12th December - Links to the online Christmas cards have been shared with each class and on ParentMail. They will be printed on Tuesday 13th and handed out on Wednesday.
Curry and Quiz night (3rd February)
Tickets on sale from the office. Limited tickets available so get yours quick!
Love Eleanor and Sally
Junior
The Below listed Clubs are now finished for the term :
Tuesday : Advanced Chess club
Wednesday : Y3 Almost Science Club
Thursday : Beginners Chess club
Spring Term 2023 Clubs – we'll send out a ParentMail later today with information about the after school teacher led Clubs for next term.
Menu - Week 2 week beginning 12 December.
---
HTSC News
Thank You
The Wishing Tree has been a very popular and the school have raised over £1000 for Maths equipment, which is amazing. So thank you to all those families who have been able to donate, it will make a huge difference to all the children learning Maths and aiding the teaching staff.
Mulled Wine and Mince Pies
We hope that you enjoyed the Christmas Play; The Wizard of Oz and keeping you warm with a Mulled Wine and Mince Pie. Thank you for your kind donations towards these.
Cakes Sales
Today was another Cake Sale for years 5 & 6 and the cake selection was as always very impressive. We are sure all the children had a scrumptious Christmassy decorated treat.
If you enjoy baking and like making cakes with lots of fun decorations, please get in touch as we welcome new bakers to the Bakers group to help with these events.
Photo Booth at Christmas Fair
For anyone who had their photo taken at the Christmas Fair; If you completed a consent form, your photos should be emailed to you this weekend. However, those children who had a group picture taken with their friends where multiple consents are required. We will be sending out a consent form to the parent/guardian to sign before we can release the photo.
The Raffle
The winners of the Raffle Draw Millie Apps have not yet come forward. Please get in touch with the school to arrange collection of your gift.
EVENTS IN THE NEW YEAR:
DON'T FORGET THERE WILL BE MORE EVENTS IN THE NEW YEAR
HTSC Meeting: Open to all parents/carers to come along and socialise and talk about future events. Early January 2023 Date to be confirmed.
Bingo Night on Friday 27th January. Details to follow in the New Year.
Thank you for your support and generous donations in 2022.
Enjoy your weekend!
From the HTSC Team