No. 281 - 2 December
Dear Parents and Carers,
Happy Advent to our whole school community! With the start of December, we can begin to celebrate this joyful season in school – it's been so exciting to hear the sound of carols, to complete the final rehearsals for our Christmas plays, and to get ourselves ready for all sorts of Christmas festivities! The start of Advent, with its message of hope for the future, made for a great end to the week.
It was delightful to enjoy the Year 3 production of Noah this week. They had such a lot of fun, dressed up, singing together with their friends and performing so brilliantly. It was wonderful to share the show with so many visitors; thank you for coming along!
I'm very excited about next week's Christmas shows, especially after seeing a sneaky preview in rehearsals this week! As you know, we don't ask you to buy the tickets – they're free! However, at each show, we'll take up a collection at the end. Once we've covered the costs of props, staging and lighting, our school council have chosen to donate this year's Christmas gift to the Guildford Hub for Ukrainian refugees. We want to help make Christmas joyful for everyone! Also, at our evening performances at the juniors, do take a look at this year's HTSC "Tree of Wishes" which has a maths theme – we'd love to be able to have more maths equipment available across all classrooms in the new year.
Do make sure the children don't get overtired as we approach the end of term; with lots on over the next fortnight, it might be sensible to cut back on extracurricular activities and have some early nights where you can. At the juniors, although most after school clubs are still on, I'd recommend children head home at 3.15pm if that's possible – it's a long week of late nights. A couple of hours downtime each afternoon might make all the difference!
Next Friday, it will be an optional late start for all the children – they will only need to be in school by 10.30. At the juniors, when they do arrive, the children should come straight to the hall instead of going to their classrooms. We traditionally hold a candle-lit assembly full of festive fun. This allows for a bit of a lie-in for any children who are worn out after a week of being on stage!
For the Christmas lunches (Pewley, Y3 and Y4 on Thursday 8th; Y5 and Y6 on Friday 9th), the children can wear a Christmas hat, jumper, novelty accessories or a sprig of tinsel. Please don't spend anything extra though! Just a little extra sparkle works a treat. If they're not eating school dinner, you might want to make their packed lunch have a Christmas-theme.
The HT fair really helped get everyone in the right mood last Friday – what a fantastic event! Huge thanks to everyone who gave time, energy and fair donations; and then came along on the night and spent money! Special thanks to the HTSC committee who also organised a wreath-making workshop this week too! It's been a magnificent fundraising effort with a total of over £7000 in the bank – we're well on our way to buying the first class set of laptops. Thank you so much!
Tomorrow it's the Pewley Christmas fair – and this time we're fundraising for a revamp of the Rainbow Room. Again, it's sure to be a great occasion. I'll see you there!
With love,
Clare
Thought of the week: Defeating Death - Moses was disappointed not to reach the Promised Land. What happens when you die? How do you cope with disappointment?
Whole school notices
Pick up on dark evenings
Please take extra care on these dark, foggy evenings – with limited visibility it's so important that drivers look out for pedestrians! Please drive more slowly than the speed limit. Twenty is definitely plenty!
When collecting at the juniors after 4pm, please come into school and meet your child there.
Ukraine Collection: The first of the snow fell in Ukraine last Saturday and millions of families are without gas, electricity or water. Mel Beskin-Byrne (07961 488439) is collecting for a local Ukraine appeal. Items needed are nearly new winter coats/clothing/skiwear for both children and adults that are outgrown or no longer wanted. If you are interested in supporting with other items, (food, hygiene, medical - see attached link for detailed information on requested donations). Please bring into school on Friday 9th December morning and drop off at the bottom of the ramp. Please contact Mel for donations of any large items, to enable planning the delivery.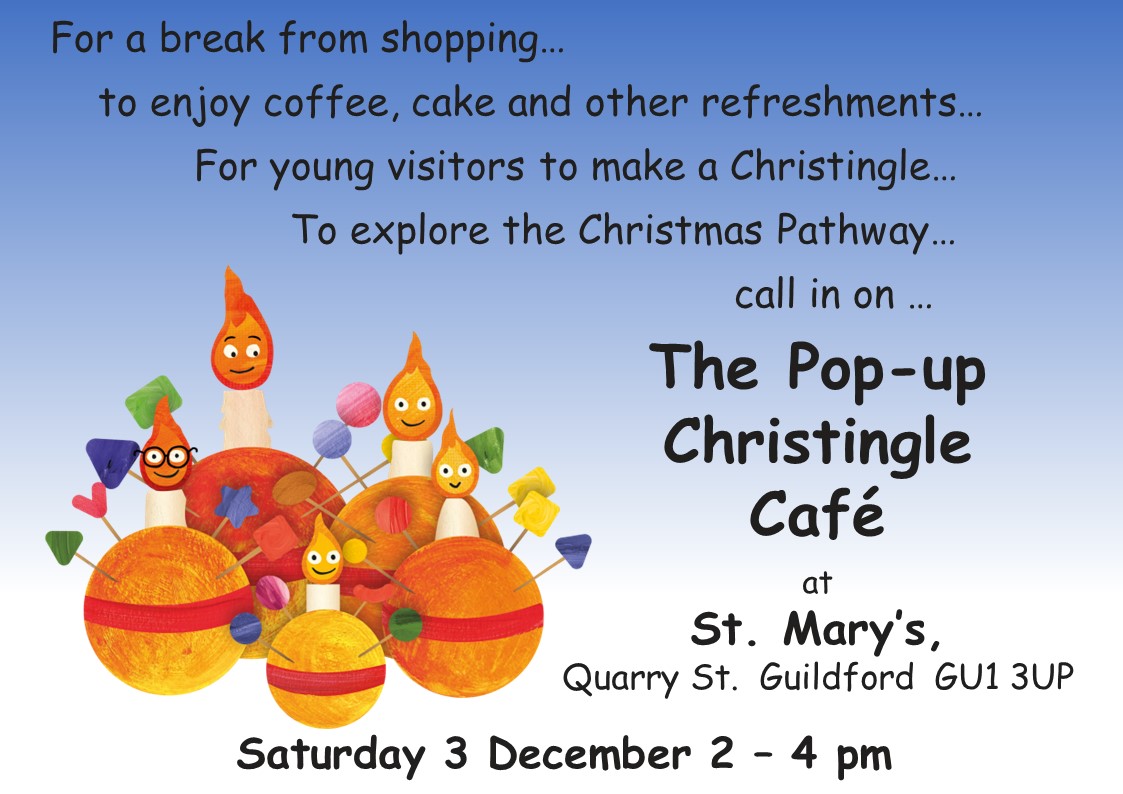 Infant
Christmas Play, 5 - 8 December: photographs
As some children are not able to appear in photographs or social media, please do not take pictures or videos at the Christmas Play performances. We will post highlights on Tapestry at the end of the week.
Christmas Lunch & Christmas jumpers, Thursday 8 December
Children can wear a Christmas jumper (or any other kind of jumper, hat or accessory) to school next Thursday. In return we are requesting a £1 donation which we will use to buy toys for the Salvation Army Toy Appeal.
If your child usually has a packed lunch but would like to have a school Christmas lunch on Thursday, please let the office know as soon as possible.
Christmas Post
The Christmas post boxes will be at the upper and lower entrances from Monday 5 December if children would like to post Christmas cards to their friends. Please make sure envelopes are addressed with name, surname initial and class.
Carols Round the Tree, Wednesday 14 December, 10.00am
Parents and carers are invited to join us for Carols Round the Tree in the school hall on 14 December.
Lost
George S (Willow Class) has lost his named purple fleece.
Menu: Week 1 beginning 5 December
There will be some menu changes next week:
Wednesday 7 December: Chicken Curry with Rice or Macaroni Cheese; Sweetcorn
Thursday 8 December : Roast Turkey & Pigs in Blankets or Veggie Sausages; Sage & Onion Stuffing, Roast Potatoes, Honey Glazed Carrots and Sour Cabbage. Shortbread or Chocolate Cake.
---
FOPS NEWS
Hi Everyone
We're so excited the Christmas Fair is finally here and looking forward to seeing lots of you tomorrow between 2 and 4.30pm. We have lots of fun planned, including:
guess the teacher behind the costume game
how many sweets are in a jar
a Christmas themed family photo booth
toy tombola
biscuit decorating
the popular summer fair wine game for adults
a Christmas sing-a-long with the year one and two children.
beer, prosecco and warm spiced apple gin
homemade bakes
a raffle with fab prizes including restaurant vouchers, pamper hamper, tickets to see The Guildford Flames and so much more
Thank you to everyone who has signed up to help. If you haven't signed up and would like to help, even if it's just for 30 minutes, please contact us or talk to your rep.
See you tomorrow!
Eleanor and Sally
Junior
Christmas Shows
HT (Y6 main cast to all performances; Y3, Y4, Y5 only attend when house is performing)
Monday 5th Shackleton/ Nightingale Matinee 1.30 Evening 7pm (arrive 6.45)
Tuesday 6th Shackleton/ Nightingale Evening
Wednesday 7th Keller/ Mandela Matinee 1.30 Evening 7pm (arrive 6.45)
Thursday 8th Keller/ Mandela Evening
Friday Late start assembly (optional) – arrive anytime before 10.30am
Christmas Lunch
Thursday 8th – Y3&4 will have Christmas Lunch, all of Y5&6 to bring packed lunch.
Friday 9th – Y5&6 will have Christmas Lunch (and cake sale), all of Y3&4 to bring packed lunch.
Lunch: Week 1 Menu next week.
Due to the Christmas lunch, the menu will be changing on Wednesday 7 December from Roast Gammon to Chicken Curry with Rice or Macaroni Cheese with sweetcorn and Mixed salad. No salad bar or Soup on the Christmas lunch days.
The following Clubs are now finished for the term:
Tuesday 6 December - Advanced Chess club
Wednesday 7 December - Y3 Almost Science Club
Thursday 8 December - Beginners Chess club
---
HTSC Newsletter
Winter Wonderland Fair
Thank you! The atmosphere at last Friday's Christmas Fair was incredible, with so many families making the effort to join in the celebrations at this year's Christmas Fair.
An enormous thank you to everyone who helped in so many different ways to bring the Fair together, behind the scenes, setting up, running stalls and helping clear away. Every little helps to bring it together, and without the participants there would be no Fair. So a big thank you to all.
I hope everyone who came felt there was a real sense of community and buzz of excitement.
The Raffle - Many thanks to everyone who bought raffle tickets!
The winners of the Raffle Draw were announced by Clare in the Hall at the end of the Fair. The 4 Lucky winners of the evening were:
Paul Davis
Chris Rattalick
Kate Mitchell
Millie Apps (For gift collection please contact Reem (4N mum) or your Class Rep)
Guess the number of presents in the Stockings:
The answers sheets have now been relocated and the answers checked.
The closest guess was 55 by Tabitha of 4N, who was only out by 7.
The total number of presents in both stockings was 62.
Well done Tabitha good guess! (Your Prize will be brought to your classroom)
Drum Roll Please….
The anticipation of the Winter Wonderland Fair fundraising efforts are now upon us: We can reveal that the total net amount raised at the Winter Wonderland Fair was £7,000.
Clare Brunet has asked HTSC to fundraise for 64 new Laptops; so that all children in 2 classes can have their own laptop and in particular work on improving their typing skills. The need for children to learn to type proficiently is essential and part of the current curriculum. Each Laptop will cost £500, which includes the set up and software.
The total raised from the Christmas Fair will equate to 14 New Laptops!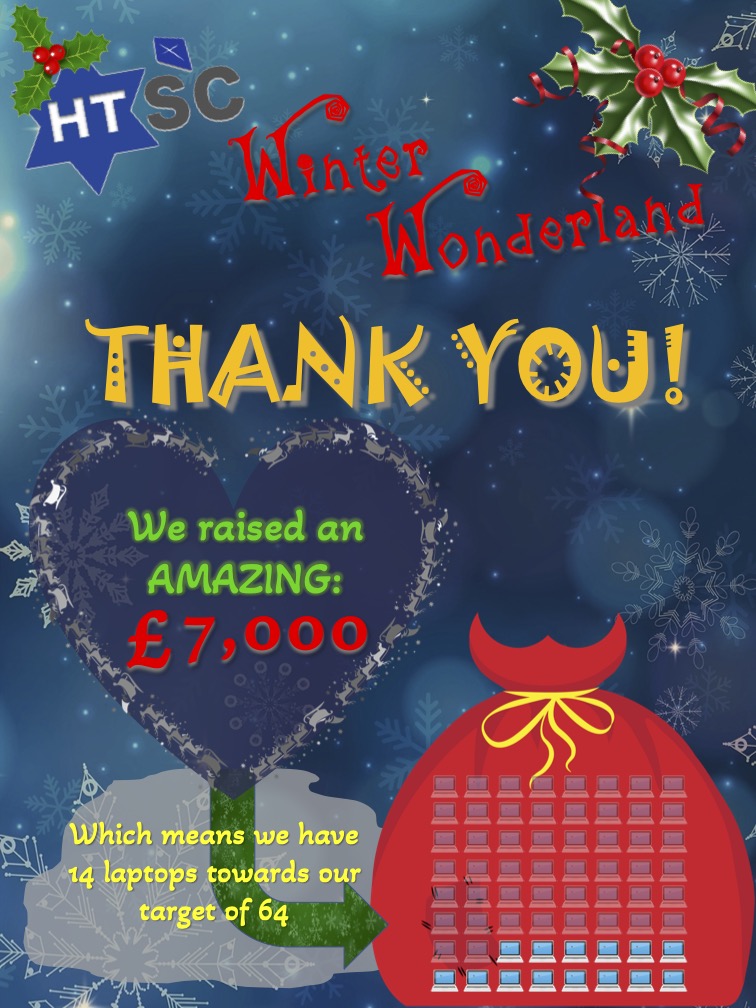 Other Fundraising Events:
The Wreath Making evening raised £408.
Two nights ago the HTSC ran a Wreath Making event, which was very successful. Although lots of concentration went into everyone's wreaths; the results were stunning and it seemed that everyone enjoyed their evening.
A Big thank you to Anne for volunteering to run this event. We hope that we can run more of these events.
If you have any ideas of events or fundraising activities that you would like to share, please feel free to pass them to the HTSC team or a Class Rep or come to our meetings.
Cake Sale for Years 3&4. The cake sale raised £161.50
These two events combined equate to 1 new Laptop!!
Upcoming Events:
Cake Sale for Years 5&6 will be held on Friday 9th December. Homemade Cakes will be distributed to children in their classrooms at the end of the day. All dietary requirements are catered for, so no child will be left out. Please feel free to make a £1 donation if you can. Bring in cash or pay online.
Film Night for Years 3&4 on 9th December has been postponed until Friday 13th January.
Bingo Night on Friday 27th January. Details to follow in the New Year.
It's the time of year when Class Reps are organising Christmas Cards and Gifts for Teachers & Year Group support Staff. Most of the Links are included in the Parentmail sent out on the 1 December. If you can't find your link or having trouble with anything, please ask your Class Rep to help you.
HTSC will buy gifts for all the Support staff and Staff who work across the whole of HT School, so that no one is left out.
Thank you for your support.
Enjoy your weekend!
From the HTSC Team
Other Notices
Surrey Arts – Please see flyer below for Musical Instruments trials.
Families Surrey West – Please follow this link to the digital version of the Nov/Dec Families magazine. This issue is all about Christmas with listings of where to see Santa, Christmas workshops and activities, days out, Christmas light switch-ons, pantos and lots more! It includes as many free events as we can as well as supports local charities by including listings for events they are having such as Santa fun runs and Christmas fairs.