No. 279 - 18 November
Dear Parents and Carers,
I have to say that I listened with a sense of relief to the Chancellor's November statement yesterday. Whilst it's far from a rosy picture and there are many challenges ahead for our country, at least the update around school funding was incredibly reassuring for all of us in school. We were starting to forecast a very difficult time ahead for HTPD, with no apparent financial support to cope with rising prices, staff pay adjustments and an energy crisis. However, with the newly announced increase in school funding that Jeremy Hunt has made, we are more confident again that we'll be able to continue to deliver a great education! However, I know that the financial situation for many in our local community remains really difficult and we are so keen to do all that we can to look after each other. Our school fund supporting those in hardship is being effectively used, and I've been encouraged to see people contributing to this on Parentpay. Thank you so much.
It's been good to show prospective parents around at both schools recently – there's always such a happy buzz of learning in the classrooms, and outside too, and the children are our best adverts! They demonstrate such a tangible "zest for learning and love of life" and they're really making the most of every opportunity. I'm glad that with a better financial forecast for schools we can continue to provide paper, pencils, books and exciting activities! It's still going to be really important that we don't waste precious resources, and any contribution either individually or via HTSC and FOPS will be so appreciated.
The upcoming Christmas fairs (HT Friday 25th November and PD Saturday 3rd December) will be a great way to support the school budget so please do think about ways you can help, either giving up time to help run the events, making donations so that all the stalls are full of things to buy, or just buying raffle tickets and coming along! Every single penny raised will make a real difference to the children. At HT we'll be funding new laptops, and at PD we're going to refurbish the Rainbow Room – none of that would be possible without your generosity. Thank you so much for working in partnership with us! And it'll be fun to get together socially and start to celebrate this wonderful time of year. I'm looking forward to the mulled wine and mince pies already!
With love, Clare
Thought of the week: Giving us rules: Moses and the Ten Commandments. Which rules work best and why?
WHOLE SCHOOL
Admission to Year R and Year 3 – September 2023
The Surrey County Council on-line booking system is now open for September 2023 applications for Year R and Year 3 and closes on 15 January 2023. This applies if you have a child due to start school in September 2023 (children born between 1 September 2018 and 31 August 2019) or a child in Year 2 transferring to Junior School. Please note that even though Pewley and Holy Trinity schools are federated you must still apply for entry to Year 3. https://www.surreycc.gov.uk/schools-and-learning/schools/admissions/primary-junior-and-infant
In addition to the Surrey application there is also a junior and an infant supplementary information form available on the website or from the relevant school office. Supplementary forms should be returned direct to the school.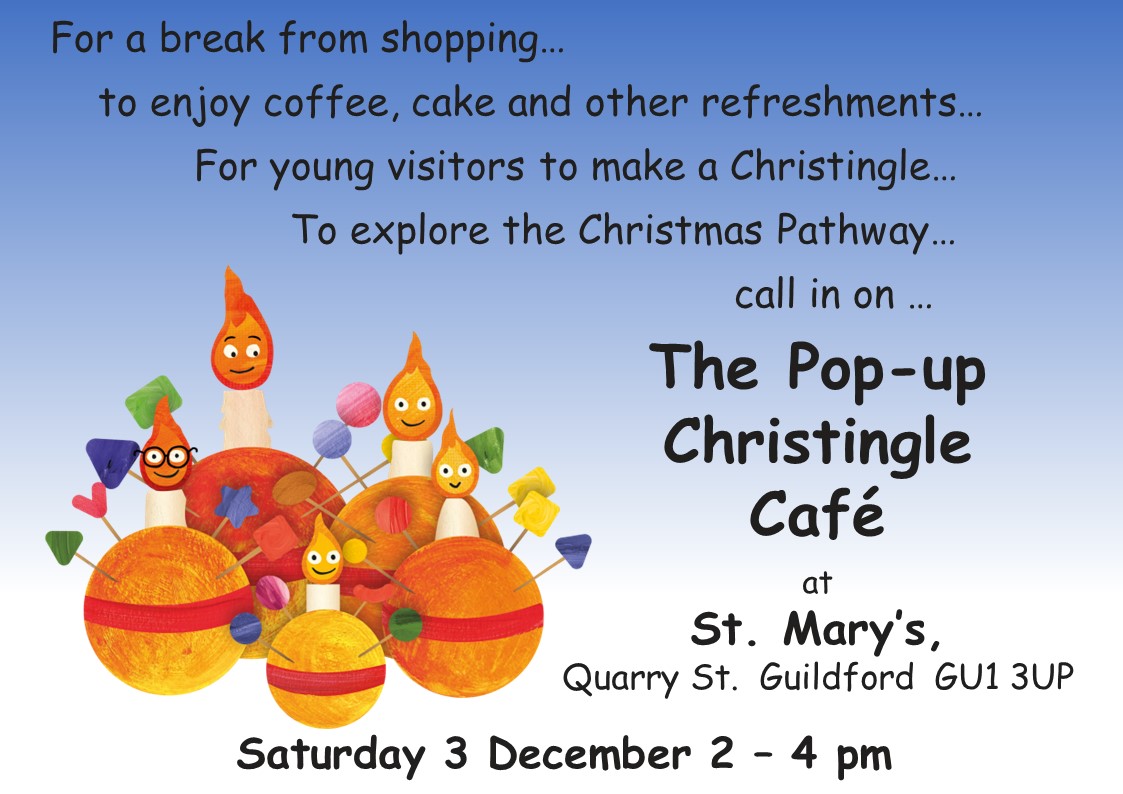 Infant
Flu vaccination
The nasal flu vaccinations will be taking place on Monday 21 November.
Menu: Week 2 beginning 21 November.
---
FOPS
Hi Everyone!
Thank you to everyone who baked and bought at the Y1 cake sale last week - it was very popular with the kids and the parents too!
We've been really busy with the Christmas Fair preparations this week – here are a few reminders of things you can do to help make it a great event:
Tickets to the Pewley Polar Experience have been selling fast this week! If you haven't got one already and you'd like your child to meet Santa and help his elves make decorations and reindeer food, then remember to get one early next week before we open up the tickets for siblings.
Starting from next Monday, we will be collecting toys, books and festive wear which will be used for some of our stalls. Labelled storage boxes will be put out in the playground every morning for you to leave donated items. Please take a look around this weekend for anything you might be able to donate - it's the perfect time for a clear out before Christmas!
Thanks so much to all of those who have already signed up to volunteer at the fair. We still need around 10 more people to help run stalls and the bar. Please do help if you can. A link to the sign up sheet is here.
Please carry on bringing in raffle ticket money and ticket stubs to Ruth in the office. We have lots of fantastic prizes on offer for the lucky winners!
Dates for your diary:
19 November: Reception social at Rogues Bar from 7.30pm
21 November: deadline to hand in entries for the Christmas Art competition
3 December: Christmas Fair 2-4.30pm
Have a lovely weekend.
Eleanor and Sally x
Junior
Dates for the dairy
Monday 21 November : Y3 – Y6 Flu Vaccination
Wednesday 23 November : Y6 Heights and Weights
Friday 25 November : Y5 Tudor Day ( please see JTLYK for costume details)
Friday 25 November : HTSC Winter Wonderland Fair 5:30pm (see HTSC below)
Clubs
Dance Club on Thursday is now open to Y3 and Y4 - see Clubs page.
Cancelled Clubs:
Friday 28 November – Dodgeball (due to school fair)
Christmas Dinner
The deadline to complete the Christmas Dinner form is today 18 November. If your child would like to have Christmas Dinner and you have not completed the form, please could we request you to do so by end of today.
Menu: Week 2 beginning 21 November.
---
HTSC
Coming soon...
Other Notices
Children's Choir being formed by Godalming Choral Society are looking for children to join the choir. The first Taster session is free. Please see flyer below for details.