No. 273 - 23 September
Dear Parents and Carers,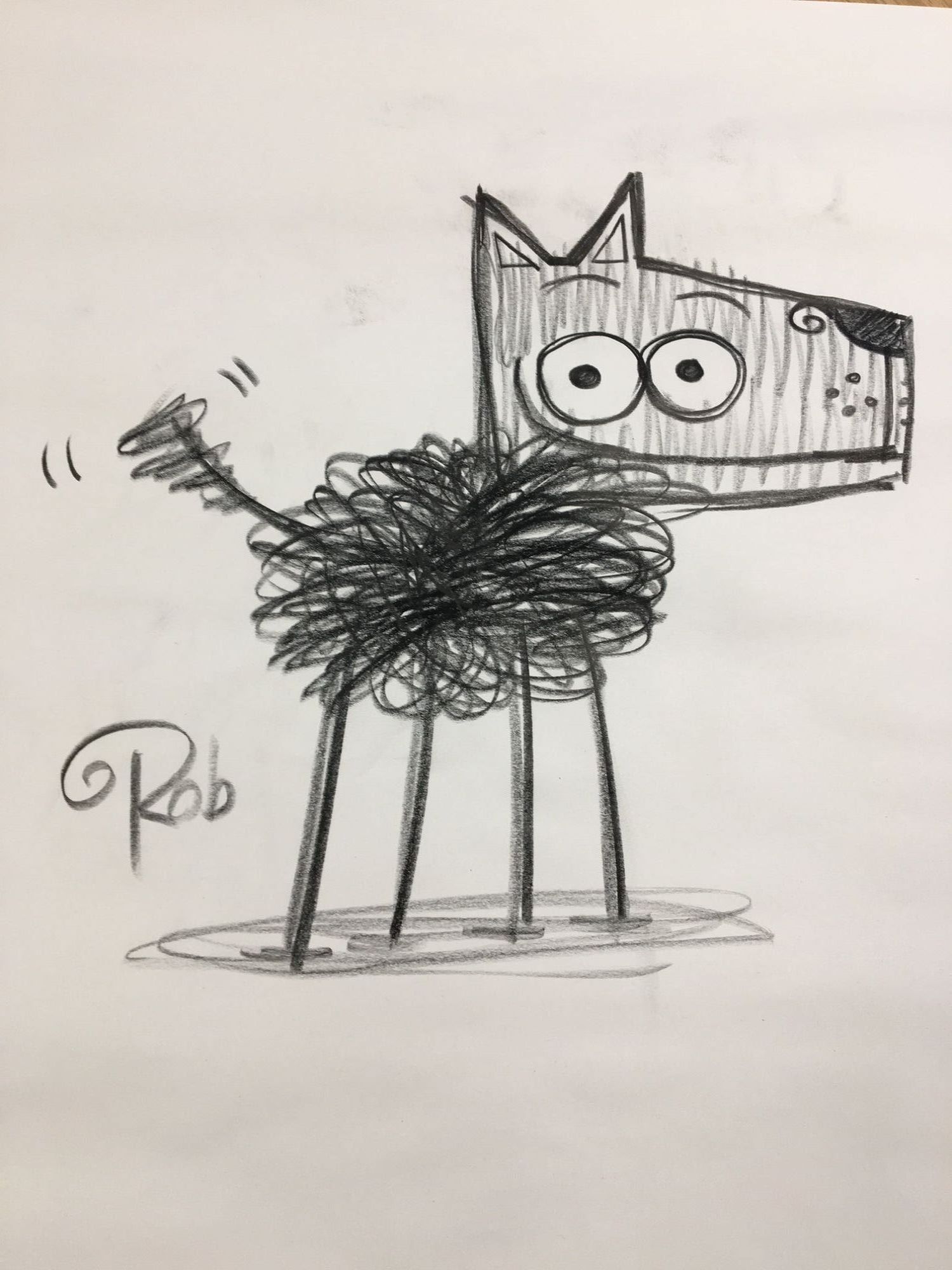 On Thursday afternoon, the children in Year 2 thoroughly enjoyed squeezing in to Holy Trinity's Chapel alongside all of the juniors to listen to Rob Biddulph, the renowned children's author who kept many of us entertained through lockdown with his "Draw with Rob" sessions. I hope your child told you all about his amusing style, including his accusation that hidden among all teachers lurked monsters! His imagination and sense of humour was a joy. And we're really grateful to him for his signed cartoon that will hang in our school library! Huge thanks to Geraldine, our inspirational librarian for making events like this happen – she's so good at raising the profile of reading for pleasure and we're so glad to have her on staff! If ever your child seems at a bit of a loss for what to read, suggest that they have a little chat with Geraldine, or feel free to get in touch with her yourself for some ideas. We know that reading unlocks so much and our hope is that every child leaves HTPD a fluent reader, poised for a lifetime of great books.
Reading at home with your child is one way to make sure this happens – so thank you for supporting your child in this way, hearing them read several times during the week, talking about the book and what's happening in the story. Enjoying books together with an adult, learning new words, working out what might happen next, just being immersed in another world, widens children's horizons and makes reading even more pleasurable. It's such an important investment of time – please do get in touch with your child's teacher if you would value any tips on how to make this a worthwhile and fun thing to do.
It's been great this week to see the children in Reception at school fulltime. Taking around a party of prospective parents on the first of our tours, I was so delighted to see how quickly they've settled in and become confident, independent and happy members of the school community! I'm sure they'll need a good rest this weekend. Do let parents of younger children know that they'd be welcome to come and look around both Pewley Down and Holy Trinity over the coming months; perhaps just suggest that they take a look at our website and call the office teams to book in. It's so encouraging that the school is full – and we are keen to make sure this is true next year too! As current parents, you're one of our best adverts so please do spread the word.
With love,
Clare
Thought of the week: Controlling Anger "How can you be more calm and peace loving?"
Whole School
A better way to celebrate children's birthdays in school - at HTPD, we don't hand out sweets or cake on birthdays so instead, if you would like to, you could buy a book for the class library. Your child could then enjoy presenting a gift to the class! This is completely optional, but it might be easier than providing fruit or other healthy snacks. Feel free to wrap up the gift so that it can be joyfully unwrapped in school!
Holy Trinity Choir, Guildford
Open Choir Rehearsal at Holy Trinity Choir, Guildford* Inspired by the music at the Queen's funeral? Surrey's major civic church, Holy Trinity on Guildford High Street, has vacancies for boys and girls in Years 3-6 to join their renowned choir. Singing on Thursday evenings and Sundays, choristers receive a first-class musical education (including singing lessons) completely free. For more information, email music@holytrinityguildford.org.uk and come along to the open rehearsal on Thursday 29 September, 6.30-7.30pm in the church. See below for flyer.
Friday 30 September
HTSC will be hosting a Macmillan Coffee Morning at HT Juniors lower playground for all people connected to the HTPD school community. Please come to have a chat after drop-off in the morning 8:30-10:30. There will be deliciously home-baked cakes, coffee and tea. All proceeds will go to Macmillan Cancer Support Charity - thank you! https://thyg.uk/BUS006626995
Car Free Day - 10.00am-4.30pm, Sunday 25 September in Guildford Town Centre
Experience a traffic-free Guildford town centre on Sunday, 25 September with Guildford Borough Council's second annual Car Free Day. This FREE event will highlight environmental issues such as air pollution, food waste and active travel, whilst giving you the opportunity for a fun-filled day on closed roads. As well as eco information and advice from leading experts, we will have loads of market stalls and yummy food vans. We'll also have amazing free activities including circus skills workshops, a huge 9m climbing wall, fun arts & play sessions, and a chance to try the latest e-bikes and e-skateboards. www.guildford.gov.uk/carfreeday2022. See below for flyers.
Infant
Year R Phonics & Maths Workshop, Tuesday 27 September, 7.00pm
We look forward to seeing you at this workshop on the teaching of reading, writing and maths. Although the session is primarily intended for Year R parents, Year 1 and 2 parents are also very welcome to attend if they would like to.
Macmillan Coffee Morning, Friday 30 September, 8.30-10.30, Holy Trinity
All parents are invited to the Macmillan Coffee morning in the playground at Holy Trinity - see whole school section for more details.
Second-hand uniform
If you have any uniform (with school logo) which is no longer needed, we would love to have it. Our second-hand stocks are starting to run low, especially Nightingale house.
Junior
Parking around school
Please continue to be really careful about parking safely at school drop off and pick up. We have had a number of calls from concerned residents in the past few weeks. Please watch out for pedestrians, and remember to be respectful, not parking across drive ways or on the zigzages, including not parking across Addison Court's entrance just across the road from school, or on the pavement. We know that our neighbours are very patient with us, and value our positive relationship with them. Please treat the local community respectfully. Thank you.
Dates for the diary
Tuesday 27 September – Y3 Wear it Wild
Friday 30 September – HTPD Macmillan Coffee Morning 8:30–10:30am (see Whole School section for details)
Tuesday 4 September

October – Y3 Marwell Zoo visit
FOPS News
Hi everyone,
Thank you again to everyone who made the FOPS AGM last week. It was great to see so many of you there and tell you a bit about some of this term's plans.
This week we've begun planning the Glitter & Glow Disco which will be held on October 15th from 3 - 4.30pm. The disco is set to be loads of fun with plans for a DJ, games, glitter and glow glam station, photo booth plus a small raffle and selection of snacks / drinks to purchase on the day. For many of the children, this will be their very first school disco (and the first one we've been able to host at the school in over 2 years) so we think this event will be an exciting and special one.
Tickets cost £4 per child / £2 per adult and will be available to buy from the school office from Wednesday next week on a first come, first served basis so be sure to join us if you can!
Other upcoming dates
30th September & 11th November: Cake and Pre-loved Uniform sale in the playground from 2.30pm
14th October: Year 2 parents social from 7.30pm (venue TBC)
19th November: Reception parents social at Rogues bar from 7.30pm
3rd December: Christmas Fair
Please do let us know if you'd like to find out more or want to be involved.
Have a great weekend,
Eleanor and Sally x
HTSC News
Hello Everyone!
Hope everyone is easing back into school life.
Class Reps
Thank you to those who have already come forward to be a class rep for this year. Class reps are a link between the teacher and the parents, and also help to find volunteers for HTSC events. Two reps per class is ideal, and you'll usually work as part of a team across your year group. There is a WhatsApp group for all the class reps so that the Chair/organisers can communicate with you as a group. If you'd like to be a class rep/or have volunteered and are not yet on this group, please join using the link sent out via Parentmail this afternoon.
HT Bakers
We have a busy and thriving Baking team that provide delicious treats to the children a couple of times a term. If you are a keen baker and would like to help out, please join the WhatsApp group using the link on the Parentmail being sent out this afternoon. This group is co-ordinated by Svenja Trettin and Laura Hinton (HTSC Secretary).
HTSC Meeting
The first meeting of the year will be confirmed via Parentmail next week.
Easyfundraising
You can keep supporting the school over the summer - if you are shopping online, one way to support the school is through www.easyfundraising.co.uk and selecting HTSC Holy Trinity School Community as your cause. Over 4000 retailers are affiliated, and every purchase makes a difference.
Second Hand Uniform
If you need any school branded second hand uniform, or have school branded uniform to donate, please contact Simone Chidlow to arrange a date/time - simonechidlow@googlemail.com If you are donating uniform, please ensure it is clean, no stains and that there are no holes or frayed edges.
Many thanks, HTSC