No. 272 - 16 September
Dear Parents and Carers,
It was great to see so many of you at our "Meet the Team" events this week. I hope that you found the presentations helpful, and that saying hello to your child's new teachers made you excited and confident about the weeks and months ahead. Hopefully the evening helped to answer any questions that you may have had – remember though to look at our website and at the weekly JTLYK pages each Friday if you're not sure about anything. This is where you'll find essential information about day trips, or special dressing up days for the week ahead. The teachers will always let you know about timings, what your child needs to bring, or what they need to wear – take a look there before ringing the office to save time.
It was also good to launch the year's fundraising, with the opportunity to hear all about the superb efforts of our FOPS and HTSC committees. Thanks so much to the retiring teams – they've worked so hard in challenging circumstances and through covid restrictions. We're so very grateful and thrilled by the funds that they have given to the school. I'm excited about the year ahead, with no restrictions preventing us from getting together – do get in touch if you'd like to get involved in being part of the organising committee at either HT or PD.
It feels like the term is now properly underway – it's been fantastic to see day trips taking place for many of the children. The Year 3 and Year 6 buddies got together and had a super day in the Chantries, in spite of the weather! Year 4 had a wonderful time launching their historical topic at Butser Ancient Farm, and, as I write, Year 6 are enjoying a day at Wisley Gardens, learning about plant adaptations. And Year 5 are excited about visiting the Tower of London next week! Meanwhile at Pewley, the first outings to the Wild Place are on the cards.
Our assembly series this term is called "God at Work" and we'll be using the metaphor of roadworks to ponder on how we continue to learn from the experiences of life. We're taking the story of Moses as our theme; I've enjoyed explaining to the children how God worked throughout Moses' life to turn him into an inspirational leader. Each week we'll be thinking about a different excerpt from the Old Testament book of Exodus and we've started off with some great teacher acting, with Moses as a baby being hidden in a basket amongst the bulrushes in the River Nile. His mother showed such incredible trust in God's plans, even when things seemed so tricky. As well as noticing God's help, we'll also be looking at people who help us on our journey through life – do get in touch if you'd like to visit us and talk about your own career, especially if you're someone who cares for others.
Our school Harvest festival celebration will happen much later in the term after the half term break, fitting in with a particular episode in Moses' story, but if you'd like to take part in Holy Trinity Church harvest celebration, take a look at this flyer; I know that Robert Cotton (our chair of governors and the Rector at Holy Trinity) would be very happy to welcome you and your family.
Of course, next week the school will be closed on Monday for the Queen's funeral. I hope that you are able to enjoy the opportunity to have a long weekend, as well as to celebrate and remember Queen Elizabeth's long and memorable life. May she rest in peace.
With love,
Clare
Whole School
Holy Trinity Church Harvest Festival Service Sunday 25 September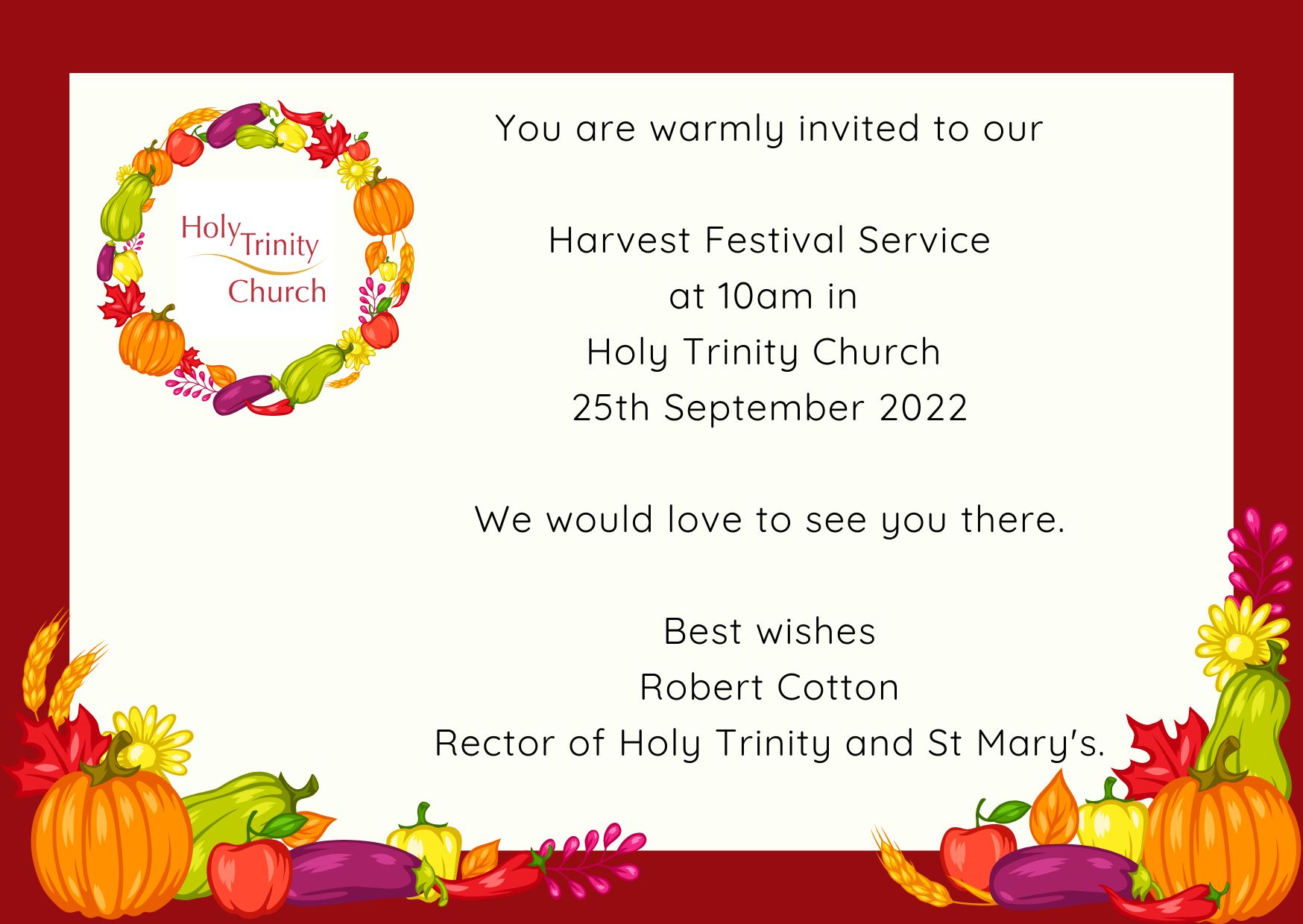 Car Free Day
Guildford Borough Council are running their second annual Car Free Day in the town centre on Sunday 25 September. The aim of this free event is to highlight environmental issues such as air pollution, food waste and active travel, whilst giving the opportunity for a free, fun-filled day on closed roads. As well as eco messaging, there will be loads of market and food stalls, plus free activities including circus skills, a 9m climbing wall (by Surrey Outdoor Learning & Development), arts & play sessions, and e-bike and e-skateboard demonstrations. See the flyer below for more information.
Infant
No parking in Pewley Bank
With major building works taking place in Pewley Bank in the coming months, it is more important than ever that parents and carers park up elsewhere. There will be lots of large lorries turning into the road and it will be dangerous to attempt to park here. Please remember that Pewley Bank is a private road and that we do not have permission to park here.
Teacher-led clubs
Construction and Fun Fitness clubs will start on Wednesday 21 September.
Year R Phonics & Maths Workshop, Tuesday 27 September, 7.00pm
This is an opportunity to find out about the teaching of reading, writing and maths, and how you can support your child's learning at home. The session is intended for Year R parents, but parents in years 1 and 2 are also very welcome to attend if they would like to.
Lost
Lucia, Walnut Class, has lost her blue (named) swimming costume, possibly taken home in error by another child.
Menu: Week 3. We are experiencing some delivery issues due to the Bank Holiday on Monday 19 September and therefore the menu may be subject to change.
Junior
Dates for the Diary
Tuesday 20 September – Y5 to Tower of London
Thursday 22 September – Author Rob Biddolph visit
Lunch
Week 3 menu next week. We are experiencing some delivery issues due to the Bank Holiday on Monday 19 September and therefore the menu may be subject to change.
FOPS News
Hi All, last night at the AGM we voted in some changes to the committee. Here are the details:
Sophie McGill is leaving the committee after managing the FOPS finances for three years. Not only has Sophie fulfilled the role as treasurer on a voluntary basis, alongside a full time job and raising two children, she has also been involved in organising and helping at school events. Now that Sophie's children have all left Pewley, we shall be sad not to see her around the school and thank her for all of her hard work.
Kate Beveridge will be leaving her role as chair and replacing Sophie as treasurer. Kate has headed up FOPS for two years, in which time we raised £11,259 This is staggering considering much of her time was during covid restrictions, when fundraising faced difficult challenges. Kate is a great member of the FOPS committee and we're delighted she is staying.
We are delighted that Debbie Smith will be staying on as secretary for another year.
Finally, Eleanor Firth and Sally Cullum will be heading up FOPS this year. With both having children in year 2, they have had the opportunity to organise and help out at events over the past two years. Eleanor and Sally are keen to repeat many of last school year's events, as well as introducing some new ones. We would love parents to get involved with events, to not only raise money for the school but also to continue the wonderful community feel we have at Pewley.
*** SAVE THE DATES ***
Cake and second-hand uniform sale - after school in the playground on Friday 30th September. Organised by year 2.
School Disco - Saturday 15th October
Christmas Fair - Saturday 3rd December
Other Notices
Y5 and Y6 Guitar Students
There is an opportunity for students to come and hear a world class player called Paul Galbraith for £1. Tickets for our Classical Guitar concert with Paul Galbraith on Saturday 8 October are available here
The parents of young players just have to put the code "GuitarStudent" in the when at the checkout Eventbrite link here
Volunteer at Citizens Advice Guildford
We constantly need volunteers within Citizens Advice Guildford and Ash and were wondering if there was any possibility of promoting our volunteering opportunities with the staff and parents of your school. Perhaps this is something you could advertise in your newsletters to parents or distribute our leaflets within your school.
Citizens Advice Guildford and Ash are a registered charity and we aim to provide free, confidential, impartial and independent advice to help people overcome their problems. It is only with the support of volunteers that we can achieve this aim. You can read all about the service we provide on our website; Citizens Advice Guildford and Ash website.
By joining Citizens Advice, volunteers become part of a highly respected advice network dedicated to working to improving the lives of people in our community.