No. 265 - 23 June
Dear Parents and Carers,
I've been so proud of HTPD this week! Firstly, with the excitement of District Sports and then with a service for Year 6 leavers at the Cathedral, I've thoroughly enjoyed seeing children being celebrated for their contribution to the life of the school.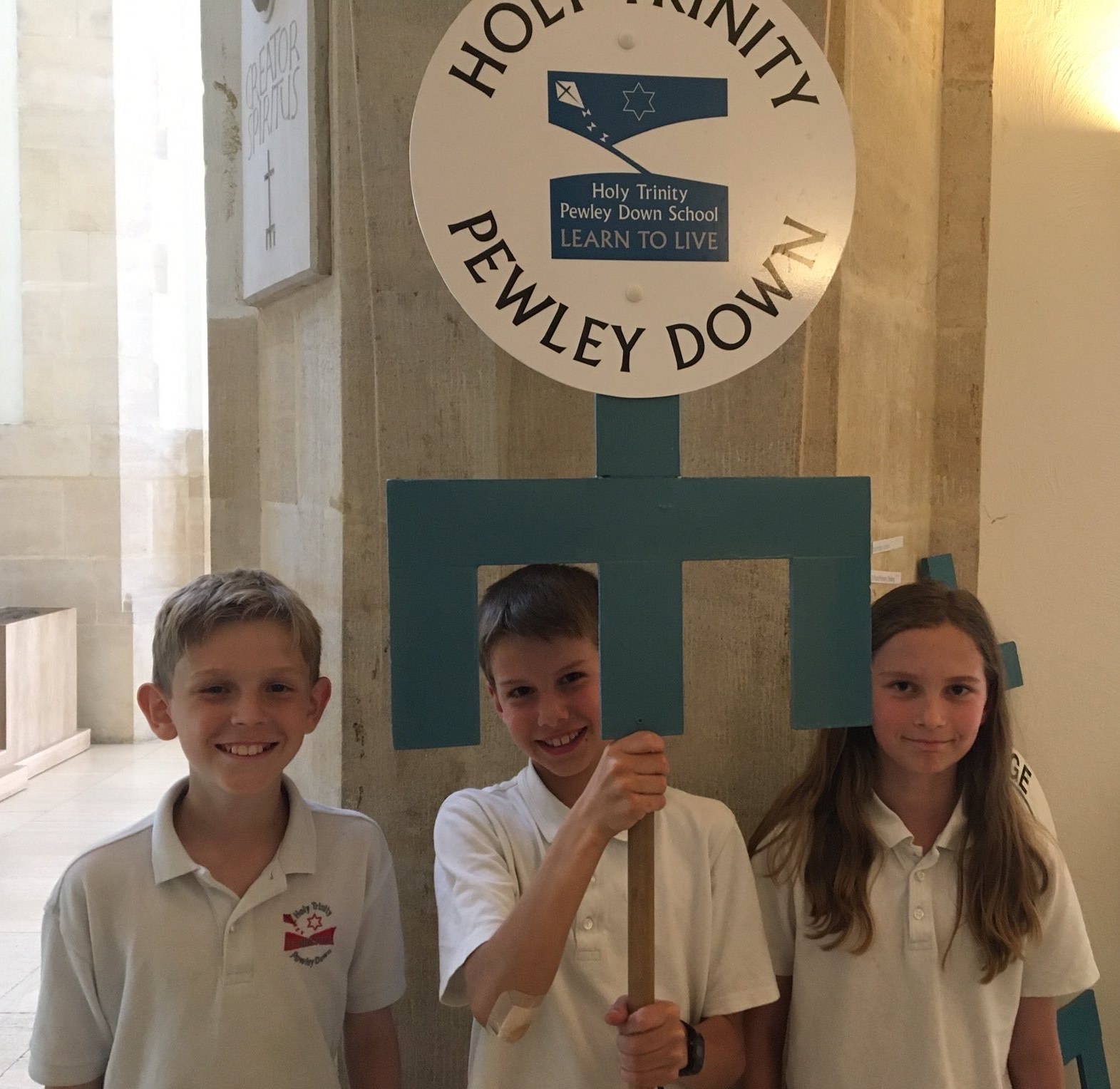 After the last two years being unable to take part in District Sports in the way that we'd like, it was a magnificent occasion on Tuesday afternoon at Guildford Spectrum. We were delighted with the results, winning plenty of individual medals, and coming first overall! Well done to everyone who took part! We were grateful to the huge crowd of cheering spectators, and for every HTPD athlete who represented the team with super talent and enthusiasm. I also want to thank those who missed out on a place at the event; without your determination to be the very best, our winning team wouldn't have been so strong. It really was a whole school team effort! I know that you'll want to join me in thanking Laura Sutton, our sports coordinator who was responsible for organising the whole town-wide event. She is such an asset to HTPD, and to the wider community!
Likewise, due to Covid, the Leavers' Service was the first since 2019. All of our 96 leavers walked to the Cathedral and joined with Year 6 children from several other church schools to celebrate the end of their time at primary school. The Cathedral was full! Our children were a credit to HTPD; they were really reflective as they thought about all their different memories and special events that they'd enjoyed. They looked back on the past, but were also excited about the future, remembering God's promise to go with them wherever they go.
At Pewley, the children looked amazing, dressed up in bright colours for their road safety day. I hope they came home with lots of tips about staying safe when crossing the road. Please do ask them what they've remembered; being asked to retell any learning helps to cement into our long-term memory. Try these phrases to get a conversation going, "Tell me about the rules for crossing the road," or "If you needed to teach someone else what to do to stay safe on the road, what would you say?"
I hope you all enjoy the long weekend; as a staff we're going to work hard on Friday to tidy up the school, as well as to tidy up our topic planning and make sure we've reflected on the past year's curriculum. We'll be thinking about our wonderfully diverse community and sharing ideas about teaching children who speak English as an additional language. It's so important for us to reflect and consider how to ensure we're teaching to the very best of our ability, having really high expectations of the children and thinking about how to support, stretch and challenge.
Remember that school is closed on Monday too, with many of the teachers using the day to write end of year reports. We'll look forward to seeing you all on Tuesday morning as usual.
With love,
Clare
Thought of the Week: The humble will be lifted up. Parable – The Tax Collector: Who do you know who is humble?
School is closed on Friday 24 for INSET and Monday 27 June for our mid summer holiday.
Whole School Notice
Holy Trinity & St. Mary's 1812 to Holy Trinity Pewley Down 2015: a school history By Margaret Clements and Richard Rowe
Following the 200th anniversary of the founding of Holy Trinity & St. Mary's School in 2012, Margaret Clements began researching and writing a history of the school. Richard Rowe has added a chapter concerning his years as Headteacher up to 2015. The book has been published recently. Copies are on sale @ £10 per copy (postage in the region of £3.50 if necessary, plus BACS details on request) from Margaret Clements.
Infant
Club cancellations, Wednesday 29 June
Calm Club with Catherine and Fun Fitness with Beccy are both cancelled next Wednesday.
Year 2 Induction Day at Holy Trinity, Wednesday 29 June
Next Wednesday Year 2 children should be dropped off at the lower playground (Cline Road entrance) at 9.30am and collected from there at 2.30pm.
Ballet Club show next Thursday 30 June
Parents and carers should arrive at 3.30 to come and watch the performance in the hall. The children will not need their ballet things this day as a costume will be provided.
Menu: Week 1 beginning 27 June.
Junior
Request from our Art teacher Laura Hanley – do you have any men's shirts that can be used as aprons in the art room? If you are having a tidy out and have any to donate, please drop them at the HT school office.
Sports
If your child has borrowed an HT competition t-shirt, please can you return it? There are some large boxes opposite the office where all HT kit can dropped off.
Holy Trinity fixtures and Clubs w/c 27/06/22
Thursday 30 June - Y5 Girls Tag Rugby Festival
The teams have been sent out on Parent Mail. We will be walking to Stoke Park, leaving school at 12.50pm. Pick up is at 4pm at the Guildfordians Rugby Football Club, Stoke Park.
Please note that on Wednesday 29 June, the menu will be changed to Fish Fingers or Vegetable Burger with Chips, Baked Beans or Mixed Salad. Bread of the Day Tomato & Chive. Therefore Friday 1 July will be Beef Bolognaise with Fusilli Pasta, Vegetable and Lentil Bolognaise, Broccoli or Mixed Salad. Bread of the Day is Garlic.
HTSC Summer Fair News
HTSC Fair - Saturday 9th July 2022 2-5pm
HTSC is in full swing organising this year's Summer Fair. It is our first event without any restrictions in place. Please put the date in your diary and come and enjoy a fun afternoon of games and entertainment, enter the raffle for one of our fabulous prizes, delicious homemade cakes & treats, cold drinks, ice lollies and Pimms!
To make this happen we need your help!
Raffle tickets have been sent home. Please sell as many as you can, but note that tickets cannot be sold to anyone under 16. Please ensure all stubs filled in with a name and contact number, with payment in cash and are returned to the HT school office by Thursday 7th July so they can be included in the draw, and any unsold tickets can be sold on the day at the Fair. There are some great prizes on offer including our Star prize of £250 Gift card for John Lewis, £50 Gift Card, Guildford Yoga course voucher,for meal for 4 at Ye Olde Shippe Inn and may more days out vouchers and other prizes. The raffle will be drawn at 4pm on Saturday 9th July 2022.
Please volunteer your services to your Class Reps to help on a stall on the day; they will be sending out a SignUp requesting help.
Friday 1st July is Donation Day! Please send your donations in on that day and leave them in the labelled boxes at the bottom of the ramps in the Atrium at HT
On Friday 1st July we would like….
Bottles – any type of bottle for the bottle tombola from champagne to tomato ketchup.
Sweetie Sacks – decorated paper party bags filled with small toys/sweets
Chocolate – anything chocolatey for the chocolate tombola. No nuts please.
Teddies/soft toys- good condition and clean for the teddy tombola.
Pre-loved Uniform – good condition/clean please.
Thank you for your support as always.