No. 262 - 27 May
Dear Parents and Carers,
This half term has come to a spectacular end with today's Fluffy Friday and yesterday's Platinum Jubilee celebrations! Harrison's, our catering team deserve a special thank you for providing all the children with a picnic feast complete with royal crown-shaped biscuits. That was a lot of sandwich making!
Gathering the whole school community together on Pewley's field complete with bunting, a portrait gallery of her Majesty and a timeline of historical events over the last 70 years made for a very special and memorable occasion. All the staff and children enjoyed sharing a meal and singing a celebratory song, even if some of the younger children were a little disappointed that the Queen herself didn't manage to turn up in person!
I hope that you've enjoyed sharing the souvenir book that has been given to all primary school children around the UK as part of the Queen's Platinum Jubilee. This has been provided by the Department for Education. It reminded me of the souvenir mug that I received back in 1977 at her silver jubilee!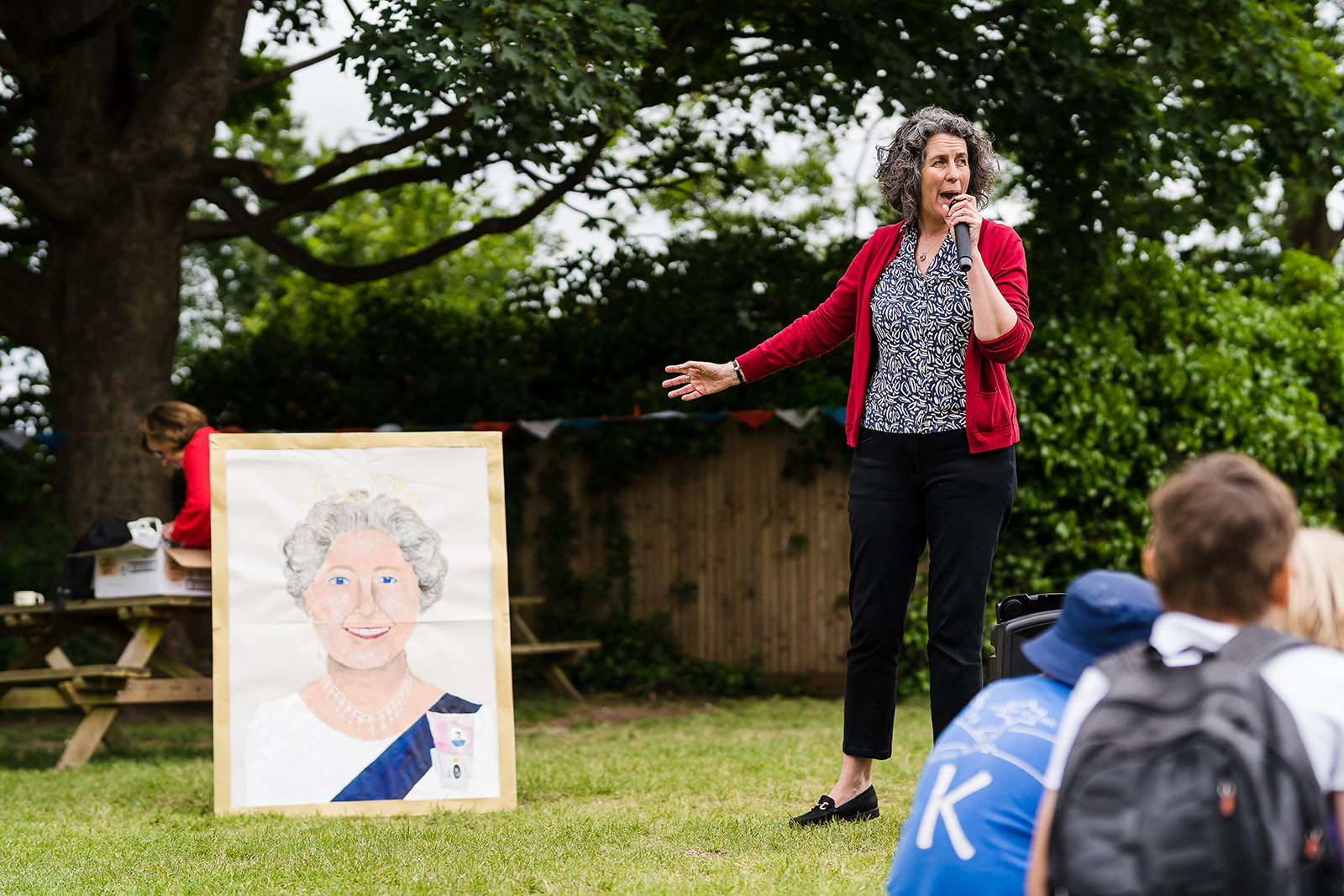 Today's Fluffy Friday is also going well – as I write, nearly 1/3 of the children are off site, enjoying the better weather and exploring the local area. We're so fortunate to be situated so near to an area of outstanding natural beauty, as well as being within walking distance of a fascinating and historically significant town centre! Perhaps your children would like to take you out and about locally over the half term break, I'm sure they'd love to retrace their steps and tell you what they've learnt.
Excitingly, over the half term holiday, our new website is about to go live. You won't need to do anything as we're using the same website address as before; it should automatically update over the next few days. You might need to carry out a hard refresh (press CTRL + F5 or CMD, SHIFT + R) when first visiting the new site so that everything works well. Please bear with us over the next couple of weeks – there are some pages still to be completed, but we hope that you like the new look!
One other change that we've made at the same time as the website launch is the introduction of two new email addresses. For general enquiries at Pewley, Ruth and Jane will be using infants@htpd.surrey.sch.uk and at HT, Nidhi, Natalia and Maria will be using juniors@htpd.surrey.sch.uk Don't worry though – the old addresses will still work and your messages will be automatically forwarded.
I hope you enjoy a relaxing holiday – we're looking forward to seeing everyone back in school on Monday 6th June for a jam-packed final half term of this academic year. It'll be great to see our Year 6's heading off on their residential visit to Shropshire; I'm excited to be joining them for part of the week, and then Year 4 will be busy packing ready for their camp at Bentley Copse in Shere. It's so good to be living life in all its fullness again. Happy holidays everyone!
With love,
Clare
Thought of the Week: True Love! Parable: The Good Samaritan – Who needs your help today?
Whole School
When the new website launches you will find the JTLYK in the Year Group Page which is under Curriculum.
Infant
Healthy Week - Scooter day 6 & 7 June
If your child has a scooter please would you send it into school (along with helmets) on Monday 6 June (Years 1 and 2), or Tuesday 7 June (Year R). Please ensure scooters and helmets are named. We will also have some scooters available for children who don't have their own.
Menu: Week 1 - 6 June
Junior
Dates for the diary
Monday 6 June – Y6 to Preston Montford
Wednesday 8 June – Y4 to Bentley Copse
Teacher Led Clubs for Second Half term
Please look out for the ParentMail later today with the information about the teacher led Clubs for the second half of the Summer Term.
The following Clubs will start week beginning 13 June as staff are away on Y6 and Y4 residential:
Y5 Frisbee Club starts Tuesday 14 June
Y5 Drama Club starts Tuesday 14 June
Y4 Art Builders Club starts Wednesday 15 June
Y5&6 Origami Club starts on Wednesday 15 June
Y4 Dance Club starts Thursday 16 June
Menu: Week 1 - 6 June - from Tuesday 7 June we will be adding the salad bar and removing the soup option.
HTSC
Summer Fair
This will take place on Saturday 9 July from 2pm. Each year group is taking a section of the fair to organise and support. Your class reps will be in contact in the next couple of weeks for how you can help.

In the meantime, if you, or someone you know, has a business that would like to be represented at the fair, we are looking for sponsors for: our top raffle prize, donations to an auction and stall holders. Your business will be advertised on our raffle tickets, all posters, local residents' letter and the school website. Please email helen@thomasday.co.uk by 6 June if you can help us with the top raffle prize.
Summer Fair – call for entertainers!
We would love to have some live musicians playing small sets throughout the fair. We are keen to hear from anybody that feels they could perform, solo instrumentalists, singers, bands or DJ's all would be fantastically received! It is so lovely for the children to hear live music! If you are interested please get in contact, by the end of half term, with Hannah Hayden (Year 4,2&1 mum)

Easyfundraising
If you are shopping online, one way to support the school is through www.easyfundraising.co.uk and selecting HTSC Holy Trinity School Community as your cause. Over 4000 retailers are affiliated, and every purchase makes a difference.

Second Hand Uniform
If you need any school branded second hand uniform, or have school branded uniform to donate, please contact Simone Chidlow.

HTSC Committee – positions vacant
Myself (Chair), Claudine Nel (Secretary) and Tom Day (Treasurer) will be stepping down from HTSC at the end of this school year as our children will be moving into their last year at Holy Trinity. It would be great if we could have a team in place to handover to before the end of the school year and to act as support next year. If you are at all interested in one of these roles (they can be shared), please do get in touch by emailing helen@thomasday.co.uk. Without these positions being filled, the criteria for the Charity Commission will not be met and it will be difficult for the school to generate fundraising activity to support our children's learning. The model for how events could be organised in future can be altered to a rotating year group approach to reduce the level of input currently required by the Chair role.

Dates for your diary
Friday 17 June – Year 5&6 Cake Sale. Bring £1, cakes provided by the HT Bakers.

Friday 1 July – Summer Fair donation day
Saturday 9 July Summer Fair from 2pm
Other
Stuck for ideas to do this summer? Christ Church Holiday club is an amazing fun and exciting 3 days for children from YR to Y6. It runs from Mon 25 July to Wed 27 at 10am to 1.30pm each day at the church in Waterden Road, and is just £10 per child. This year the theme is Superheroes and we are going all out with games, drama, crafts and bible stories. For more information and to book online go to www.christchurchguildford.com