No. 286 - 20 January
Dear Parents and Carers,
How fantastic to see the spring term properly underway! This term always feels so purposeful and focused with children really settled into their classes. It's brilliant to visit the classrooms and see every child engaged in the learning.
I took a trip up to London on Wednesday to see another school that teaches reading like we do; Lilja, our reading leader came too. We had a great visit - it was so encouraging to watch some lessons, to compare with HTPD, and come back with ideas. Becoming a confident reader unlocks such a great future for the children – we're so grateful for your support in this endeavour, hearing children read regularly at home, sharing great books together and just chatting about stories. It makes such a difference and is worth every minute. Do get in touch with our librarian, Geraldine or with your child's classteacher if you'd like some ideas about how best to support reading at home; even if you're very busy, or you feel that you're not an expert, or if English isn't your first language, you can still make such a difference. It's very clear that those children whose parents read with them throughout their primary school years are the best placed for success in the years ahead. We're also always looking for parent volunteers to hear children read in school – if you can spare half an hour a week or so, we'd love to hear from you!
Another highlight of the week was seeing the enthusiasm of our Year 4 children as they returned from a trip to the London Science Museum. Day trips are such an important part of our curriculum and each one is an exciting adventure. The children find links with what they've been learning in school, and widen their understanding of each topic; I wonder what your child came back and told you. What caught their imagination and which little details did they remember?
Please feel free to look at the topic maps for each year group on our website for this term – they might give you some ideas of what to chat about with your children at bedtime, or in the car, or as you walk across the Downs.
Have a good weekend, everyone.
With love,
Clare
Thought of the week: The Magic of Hope: What is your idea of Heaven? Miracle – the Wedding at Cana.
Notice about teachers' strike days
I'm sure you'll have seen the news about the planned teachers' strike days that are coming up in the weeks ahead, with teachers from the NEU striking over pay and conditions.
Headteachers have been asked by the government to keep schools open if they are able to – with only a few teachers part of this union, we feel that we should be able to stay open. It may be that the children in affected classes aren't covering the usual curriculum on these days, but they will still be able to be in school.
Infant
Spare socks
We are very short of spare socks for children to change into. If you have any boys or girls socks or tights which are outgrown or no longer needed, we would love to have them.
Lost
Hanna in Walnut Class has lost her gloves (grey with small pearls).
Menu: Week 3 Commencing 23 January
---
FOPS News
Hi everyone
We hope you've all had a good week. The FOPS committee have been busy putting together plans for the Spring and Summer term – we have some really exciting fundraising and community events to share with you all! We will be hosting a Zoom call for anyone who would like to hear about everything we have in the pipeline and share ideas. Details of the call will be coming next week.
The Rainbow Room
We're delighted to share the news that part of the money raised from FOPS events in the Autumn term is being put into action this month in the Rainbow Room. A climbing wall will be installed in the coming weeks which all the children will get a huge amount of benefit and joy from. They are also fitting electric sockets for things like speakers so the children can dance on stage, listen to audiobooks and use craft materials such as glue guns.
The money will also be used for painting the room. As you may have read in a recent ParentMail, this is taking place on Saturday but we would love some more volunteers to help. There will be hot drinks, bacon rolls and biscuits provided. If you are able to help, please talk to Catherine or email catherinef@htpd.surrey.sch.uk
Please note: children are not able to attend for health and safety reasons.
Quiz and Curry Night
The deadline for buying tickets was yesterday and if you have a place, we hope you are as excited as we are! A Parentmail will be coming out soon with all the final details.
We will be holding a silent auction on the night (bids also welcome in advance). Lots include a Lego McLaren Formula 1 Car, 2x Bowers & Wilkins Loudspeakers, and gifts and vouchers from our wonderful local businesses.
Christmas Colouring Competition
*Winners and Runners Up of the Christmas Colouring Competition* - We have collected your professionally printed artworks from Knight Frank and they are in the school office ready for you to collect.
Have a great weekend.
Eleanor and Sally
Dates for your diary
Painting the Rainbow Room Saturday 21st January
Playground bake and uniform sale Friday 27th January
Quiz and Curry Night Friday 3rd February
Junior
Data Sheets
Please return the data sheets to school by Monday 23 January. Thank you to all the families who have returned them already.
Dates for the Diary
Monday 30 January – Y5 Winchester Science Museum visit. Please complete the consent form if you haven't done so already.
Cancelled Clubs
Friday 27 January – Y6 Netball Club
Menu: Week 3 Commencing 23 January
Sports : Holy Trinity fixtures and Clubs w/c 23/01/23
Wednesday 25 January - Y5 & Y6 netball match v St Joseph's - HOME
The teams have been sent out via ParentMail. Please collect from HT at 4.30pm
Saturday 28 January - Y5 Rydes Hill Netball Tournament
The team has been sent out on Parent Mail.
Friday 27 January - Sportshall practice. The teams will be sent out on ParentMail.
Y6 Netball club is cancelled.
Other
Vacancy - Christ Church are looking for a part-time Worship Pastor, email nick@christchurchguildford.com
Be a Chorister for an afternoon - email contact@holytrinityguildford.org.uk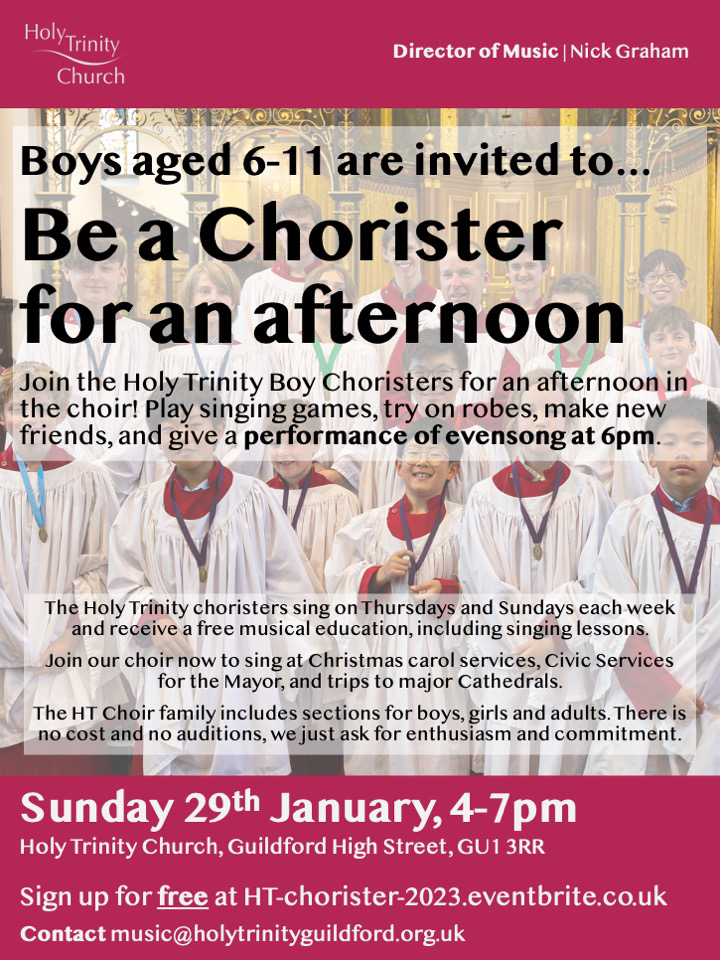 Surrey West families January and February 2023 digital magazine: This issue has a what's on listing for January and February, Valentine's craft ideas, batch cooking recipes and lots more. https://issuu.com/familiesonline/docs/families_surrey_west_jan_feb_2023_digital?fr=sZmI3ODU2OTk0MDk ; https://bit.ly/FamiliesMagJanFeb23Digital
Haslemere Minor Injuries Unit
We have been asked to draw parents' attention to the Haslemere Minor Injuries Unit which often has shorter waiting times than Royal Surrey Emergency Department (A&E). There is no need to make an appointment, although you can call 111 for advice and a time slot to attend.
The Minor Injuries Unit is for adults and children over two years of age. It is run by our team of skilled Nurse Practitioners who can assess, diagnose and treat patients with minor injuries. It is open from 8am to 5pm Monday - Friday and some weekend days. Throughout January, the MIU will be open Monday - Sunday from 8am to 5pm.