EYFS
Early Years Foundation Stage
Our approach to the EYFS curriculum recognises that every child is a competent learner and that all children develop and learn in different ways and at different rates. We offer rich and inspiring experiences which motivate and challenge our children to become curious and enquiring learners. We highly value our outdoor learning experiences and our environment plays a significant role in supporting and extending children's development and learning.
We encourage children to make meaning for themselves with hands-on learning activities which are planned by the teachers but inspired by the children. This way the children develop their own learning which is then carefully observed and supported throughout the year. These Characteristics of Effective Learning are:
Playing and Exploring
Finding out and exploring
These children are exploring strawberry jelly whilst learning their phonic sounds

Playing with what they know
This child is using streamers to make up a dance in the wind

Being willing to have a go
These children are having a go at recognising numbers
by catching numbered fish in the winter wonderland role play area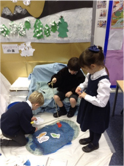 Active Learning
Being involved and concentrating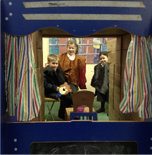 Recreating the story of the Three Bears with friends
Keeping on trying
We wondered how many bricks we could use to make our tall tower. Would it be more than 10?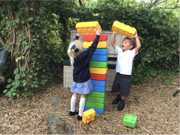 Enjoying what they set out to do
When we persevere, we can make a very interesting four sided tower with a square pyramid roof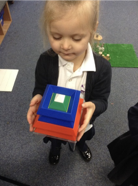 Creating and Thinking Critically
Having their own ideas
Marble Run chutes are a great way to build a bridge across the jungle river
Making links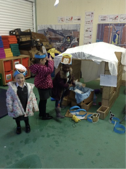 These children are using the Nativity role play to look after their own babies
Choosing ways to do things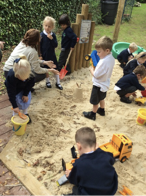 Sometimes we need to ask an adult for help to find decorations for our sandcastle
The EYFS curriculum begins in the nursery phase, carries on to the end of the Reception year and is broadly based on play. The curriculum covers seven learning areas.
These are divided up into three 'Prime Areas' which are:
Personal, Social and Emotional
Communication and Language
Physical Development
And four 'Specific Areas' which are:
Literacy
Mathematics
Understanding the World
Expressive Arts and Design
How we teach literacy
In Early Years we teach daily phonics following the guidelines in the Government guidelines, using the Little Wandle Letters and Sounds (Revised) Scheme. We actively encourage a love of reading and listening to stories both at home and at school.
We help our children to learn the skill of writing through physical exercises and regular 'dough disco' activities to help gross and fine motor development. We provide lots of opportunities for children to 'mark make' and write everywhere in the setting - be it on the floor, on an outdoor blackboard always following the children's own interests eg writing shopping lists or aeroplane tickets in the role play area. Children are then encouraged to write using their learned phonics sounds to make whole words and simple sentences.
Our approach to maths
Children learn maths skills through exciting role play, stories and songs. Our whole school approach to topic themed learning starts in Reception where we carefully plan physical activities around the children's interests and child inspired themes. We use Mastery techniques to develop problem solving skills that are embedded within a creative curriculum that progresses all the way up the school.