Computing
Intent – The vision
Technology is everywhere; it is rapidly changing our global community and will play a pivotal part in children's lives. At Holy Trinity Pewley Down School, children are encouraged to 'Learn to Live' and we provide a high-quality computing education which will equip all our children with relevant computing skills necessary for them to flourish educationally and more broadly in life. We aim to provide outstanding learning experiences through access to a range of digital and electronic hardware, as well as through stimulating discussion, real-life contexts and high challenge.
Through teaching computing, we prepare our children to participate in a rapidly changing world where work and leisure activities are increasingly transformed by technology. It is our intention to enable children to find, explore, analyse, exchange and present information. We also focus on developing the skills necessary for children to be able to use, read and interpret information. Computing skills are a major factor in enabling children to be confident, creative and independent learners – through the computing curriculum, we intend that our children have opportunity to live out our school values and develop "a zest for learning and a love of life."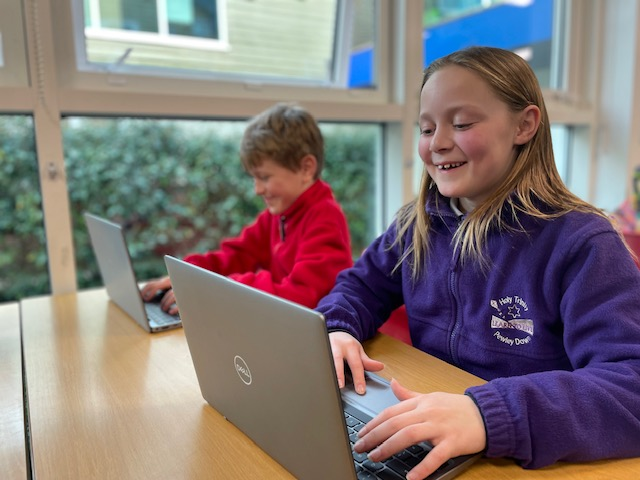 Implementation – How we achieve our goal
To ensure high standards of teaching and learning in computing, we implement a curriculum that is progressive across the school allowing children to revisit and build upon their previous learning. Computing is taught by class teachers in discrete lessons, utilising laptops, iPads, and other 'offline' resources such as 'Turing Tumbles'. In the EYFS, children have the opportunity to use technology as part of their independent learning in continuous provision. For Years 1-6, the Teach Computing scheme of work is used to deliver high quality lessons. The national curriculum states that children should become 'digitally literate at a level suitable for the future workplace and as active participants in a digital world' and the Teach Computing scheme of work has been designed in conjunction with businesses to ensure that children are prepared for their future roles.
The recent acquisition of a class set of laptops has allowed our children to use a wider range of technologies and digital programmes, as well as develop computing skills which will impact across the wider school curriculum. Internet safety is a key focus for teaching computing at HTPD; children are taught how to remain safe online at every opportunity, through both computing lessons, as well as across the wider curriculum in PSHE and RSE.
Impact – How do we know our vision has come to fruition?
Children cultivate an excellent attitude towards computational learning, having worked in both a creative and collaborative environment in which they can learn to express and challenge themselves. Children both enjoy and value the curriculum that we deliver and they become confident in understanding how to use a range of technologies safely, including online. Their digital literacy grows as they progress through the school demonstrated by their effective use of a range of technologies and their ability to use it to accomplish a wide variety of goals. The children are able to understand the principles of information and computation, explore how digital systems work and develop key computational thinking skills. They then apply this knowledge to a variety of coding and programming challenges through repeated practical experience. They are becoming global IT citizens, ready to "embrace the future with hope and confidence".